National Cybersecurity Awareness Month
Editor's note: This the first in a series of articles in observance of National Cybersecurity Awareness Month.
2 p.m., Oct. 2, 2006--The National Cyber Security Alliance (NCSA) and the educational computing consortium EDUCAUSE have declared October to be National Cybersecurity Awareness Month.
"This is a time when NCSA and EDUCAUSE encourage every school, college and business to remind their students and employees about the importance of safe-computing practices," Susan Foster, vice-president for Information Technologies (IT) at UD, said.
She added that IT staff have embarked on a campaign to encourage all members of the University community to examine their computing practices and to make sure that they have protected themselves, their computers and their information.
According to Foster, NCSA lists eight key security practices that are important for everyone at UD:
Protect confidential information;
Know with whom you're dealing online;
Use anti-virus, firewall and anti-spyware software;
Update your computer's operating system and web browser regularly;
Use strong passwords;
Back up your work;
Learn what to do if something goes wrong; and
Protect your children online.
"The first seven of these items are critical to everyone at the University," Foster said. "And the eighth is very important for those of us who are parents of younger children or work with primary and secondary school children.
"When thinking of the NCSA's first point," Foster continued, "it's important to remember that University faculty and staff must be concerned with all the confidential information entrusted to them--not just their own personal information, but information about students, grades, employees, research and other private or confidential information."
Karl Hassler, associate director of IT-Network and Systems Services said that this month the IT Help Center will highlight computer security information at its web site. "In addition, we have a calendar of activities that we're suggesting to University students and employees; some of the activities are informational in nature, some are things we want our users to check."
One of the new ventures linked from the IT Help Center's Cybersecurity Calendar is a series of short, weekly video tips about safe-computing practices that will be released on Mondays during Cyber Security Awareness Month.
"These videos address some of the current issues that affect our students and staff the most," Ron Nichols, manager in IT-User Services, said.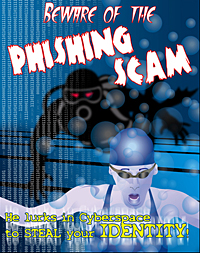 Copyright 2006, the Trustees of Indiana University

"Last month, many UD faculty and staff received fake e-mail that appeared to come from the U-Del Federal Credit Union, but that was really an attempt to harvest personal information from the University community," Nichols said. These attempts to trick people into surrendering personal information are called phishing. "So our first cybersecurity video is a warning not to get hooked by phishing scams."

"The security of your computer and the information you store on it is critical at all times," Foster added. "But during October, we urge everyone at the University of Delaware to double- and triple-check their computers and computing practices."

For more information, visit:

IT-Help Center's Cybersecurity Awareness Calendar [www.udel.edu/security/october.html]

UD's Cybersecurity Awareness Videos
[www.udel.edu/ncam]

UD's Computer Security News and Alerts: [www.udel.edu/security/secnews.html]

Bogus U-Del credit union e-mail advisory [www.udel.edu/PR/UDaily/2007/sep/bogus091206.html]

Computer Security at UD
[www.udel.edu/security]

UD's IT-Help Center
[www.udel.edu/help]

National Cyber Security Alliance
[www.staysafeonline.org]
E-mail this article
Subscribe to UDaily
Subscribe to crime alert e-mail notification