UDaily is produced by the Office of Public Relations
150 South College Ave.
Newark, DE 19716-2701
(302) 831-2791

UD Frankenstein expert on History Channel Oct. 29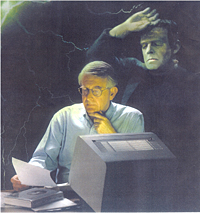 Charles Robinson, professor of English, is an internationally known expert on Mary Shelley's 1818 novel, 'Frankenstein, or the Modern Prometheus.' Photo by Robert Cohen
2:22 p.m., Oct. 27, 2006--Of all the ghosts, ghouls and otherworldly monsters that come to mind during the Halloween season, few have been more engrossing or enduring than the characters from Mary Shelley's 1818 novel, Frankenstein, or the Modern Prometheus.
Charles Robinson, UD professor of English, is appearing in a new History Channel program, "Decoding the Past: In Search of the Real Frankenstien," discussing the original manuscript on which the popular character is based. The program will air again at 6 p.m., Sunday, Oct. 29, on the History Channel (Comcast channel 59 in the New Castle County area).
The program was filmed at the Bodleian Library and the Clarendon Building at Oxford University in August by Wild Dreams Films, Robinson said.
"The Bodleian Library has a draft of the novel and fair copy, which was edited by Mary Shelley's husband, the poet Percy Bysshe Shelley,"
Robinson said. "It was marvelous to be in the presence of the manuscripts that I have worked with."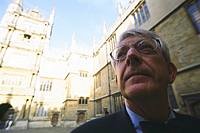 Robinson at Oxford University in the courtyard of the Bodleian Library, where he was interviewed for the new History Channel program "Decoding the Past: In Search of the Real Frankenstein." Photo courtesy of Wild Dream Films

Robinson said that there are several reasons why the character of Frankenstein originally captured the attention of readers in 1818, and why it has continued to reverberate in the consciousness of modern culture.

"The novel obtained epic significance early on, because it explored the various myths of the results of the dangerous pursuit of knowledge, as exemplified in the biblical story of Adam and Eve and in John Milton's Paradise Lost," Robinson said. "Today, the name Frankenstein also is invoked as a cautionary tale when people are debating the implications of scientific pursuits such as cloning."

Of the many films that have portrayed Mary Shelley's creation, Robinson said that his favorites are Frankenstein (1931), directed by James Whale and starring Colin Clive, Mae Clark, and of course, Boris Karloff as the monster, and Young Frankenstein (1974), directed by Mel Brooks and starring Gene Wilder, Madeline Kahn and Peter Boyle.

"There also have been some not so good versions of Frankenstein," Robinson said. "The real version of Frankenstein that is true to Mary Shelley's novel has yet to be made."

Robinson's field of expertise is English Romanticism. He is and coeditor of The Mary Shelley Reader and the author of Byron and Shelley: The Snake and Eagle Wreathed in Flight and the editor of Mary Shelley: Collected Tales and Stories; Lord Byron and His Contemporaries: Essays from the Sixth International Byron Seminar; William Hazlitt to his Publishers, Friends and Creditors: 27 New Holograph Letters; Mary Shelley's Proserpine and Midas. He also has published the manuscripts of The Frankenstein Notebooks and is working on an edition of the letters of Charles Ollier, who was the publisher of the Keats, Hazlitt, Lamb, the Shelleys and other Romantic and Victorian writers.

A graduate of Mount Saint Mary's College, Robinson received his doctorate from Temple University.

Article by Jerry Rhodes
E-mail this article
Subscribe to UDaily