UDaily is produced by the Office of Public Relations
150 South College Ave.
Newark, DE 19716-2701
(302) 831-2791

Sharon Turner named HR Liaison of the quarter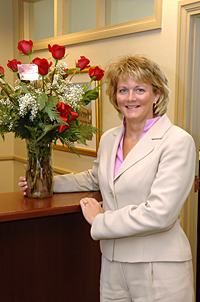 Sharon Turner
11:28 a.m., Oct. 17, 2006--Sharon Turner, administrative assistant with the Office of the Executive Vice President, has been named Human Resources (HR) Liaison for the third quarter of 2006.
When the roses were delivered, Turner said she thought they were from her husband until she called him to thank him. His response was, "I didn't send them--who is sending you roses?" she said, and it was then she discovered she was HR Liaison of the Quarter.
"Getting the roses started my day off and my week off right, and I thank everyone," Turner said. "It is very nice to be recognized."
Turner began her career at UD in 2000 working in Human Resources for six months until she moved to the Office of the Executive Vice President. The office is a busy one, she said, and, among her duties, she keeps the executive calendar, she posts the administrative calendar, works on special projects and maintains the policies and procedures web site. She also is involved in keeping the pink pages of the Campus Directory up to date.
As liaison, she also informs employees in her group about HR workshops and seminars and changes that take place. She has worked closely with HR in filling new positions in the office.
Turner was nominated by several persons with whom she works as a liaison. She was cited for helping other liaisons in her unit, no matter how busy she is, and for creating a spirit of teamwork.
Photo by Kathy F. Atkinson
E-mail this article
Subscribe to UDaily