UDaily is produced by the Office of Public Relations
150 South College Ave.
Newark, DE 19716-2701
(302) 831-2791

UD prof elected to head historical archaeology society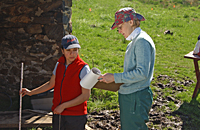 Lu Ann De Cunzo (right), UD professor of anthropology, confers with Nedda Moqtaderi, coordinator of the undergraduate laboratory and field research in the Department of Anthropology, at the site of an archaeological dig.
3:53 p.m., Oct. 3, 2006--Lu Ann De Cunzo, UD professor of anthropology, was elected to serve as president of the Society for Historical Archaeology (SHA), the largest scholarly group concerned with the archaeology of the modern world from A.D. 1400 to the present. De Cunzo will serve as president from 2008-09.
Historical archaeology is the study of the material remains of past societies that also left behind some other form of historical evidence. This field of research embraces the interests of a diverse group of scholars representing the disciplines of anthropology, history, geography and folklore.
"Presiding over SHA is a great responsibility, honor and challenge," De Cunzo said. "Our more than 2,000 members represent students and professional historical archaeologists working for universities, governments, corporations, museums and other organizations around the world."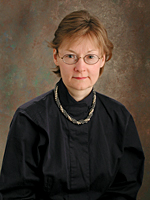 Lu Ann De Cunzo

Formed in 1967, SHA promotes scholarly research and the dissemination of knowledge concerning historical archaeology. The society is specifically concerned with the identification, excavation, interpretation and conservation of sites and materials on land and underwater. Geographically, the society emphasizes the New World, but also includes European exploration and settlement in Africa, Asia and Oceania.

"Like our colleagues in archaeology around the world, we face the challenges of preserving our material heritage from natural disaster, vandalism, and commercial and political exploitation, and convincing people with diverse interests to join these efforts," De Cunzo said. "Archaeological sites and artifacts teach us who we are and where we came from. It's quite an awesome responsibility to ensure that these places and things have a future, so that we can continue to apply new ways of thinking and new technologies to uncovering their stories."

De Cunzo, who also is a professor of the Winterthur Program in Early American Culture, joined the UD faculty in 1989. She holds a bachelor's degree in anthropology from the College of William and Mary in Virginia, and master's and doctoral degrees in American civilization from the University of Pennsylvania.

De Cunzo has given numerous presentations and serves on the board of directors of the Council for Northeast Historical Archaeology. She also is a member of the American Studies Association, and the Society for Industrial Archaeology. Her honors include serving as a Mellon Dissertation Fellow at the University of Pennsylvania and receiving the Thomas U. Walter Award for a manuscript on Philadelphia architectural history.

Article by Martin Mbugua
Photos by Kathy F. Atkinson
E-mail this article
Subscribe to UDaily
Subscribe to crime alert e-mail notification