Four alums cited for special honors at Homecoming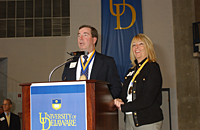 Robert and Linda Harra
4:05 p.m., Oct. 18, 2006--Four University of Delaware alumni were recognized for their contributions to UD and the larger community in a special ceremony during the Homecoming Brunch in honor of the Class of 1956 reunion, held Saturday, Oct. 14, in the Bob Carpenter Center.
Robert and Linda Harra, who met as undergraduates, were presented with the University of Delaware Medal of Distinction by Robert Fischer, UD Board of Trustees vice chairperson.
The Medal of Distinction recognizes individuals in the state and region who have made humanitarian, cultural, intellectual or scientific contributions to society; have achieved noteworthy success in their professions; or have given significant service to the University, the state and the region.
A 1971 graduate of the School of Nursing, Linda Harra pursued a nursing career for many years while also raising a family.
An advocate for health-care reform who serves on UD's Nursing Visiting Committee, Linda Harra also served on the University's Nursing Scholarship Endowment Campaign, which raised more than $1 million to benefit undergraduate nursing students.
A recipient of the Alumni Association's Outstanding Alumna Award in 2001, Linda Harra co-chaired the Steering Committee for the College of Health Sciences during the University's Campaign for Delaware. She continues to be involved in community affairs and most recently was appointed chairperson of the board of directors of Goldey-Beacom College, where she has served as a trustee since 2000.
Also a member of the Class of 1971, where he graduated with a degree in accounting, Robert Harra is the president and chief operating officer of the Wilmington Trust Company. Joining the company immediately after graduation, he achieved several positions of increasing responsibility before being named president in 1996.
Chairman of the State of Delaware Council on Banking and a member of the Delaware Business Roundtable, Robert Harra is chairman of the Grand Opera House. A past president of the Delaware Bankers Association, he also is a board member of the Salvation Army, Wesley College and United Way of Delaware.
A past president of the UD Alumni Association and a recipient of its Outstanding Alumni Award, Robert Harra was inducted into the Alumni Association's Wall of Fame in 1998.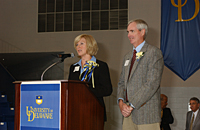 James and Suzanne Sears

In 1996, the Harras established the Linda Brinton Harra Endowed Nursing Scholarship to benefit nursing undergraduates.

In presenting the awards, Fischer said that the Harras have been shaped and molded by three guiding principles, including their commitment and devotion to one another, their family and UD.

"It is fitting that we present the Medal of Distinction to Robert and Linda [Harra] on Homecoming before this audience of dedicated and enthusiastic Blue Hens," Fischer said. "The Harras exemplify the best of our alumni as model 'Double Dels,' and we are delighted that they have returned home to receive their honors today."

Outstanding Alumni Awards

James and Suzanne Sears were presented with Outstanding Alumni Awards by Robert Davis, vice president of University Development and Alumni Relations. Bestowed annually, the award recognizes exemplary volunteer work on behalf of UD and the UD Alumni Association.

James Sears, a 1970 graduate with a degree in accounting, recently retired as vice president of CIGNA Corporation in Philadelphia. He serves on the UD Athletics Visiting Committee.

Suzanne Sears graduated from UD in 1978 with a degree in business education. She serves as president of DIY Business of Kimberly-Clark Corp. in Newtown Square, Pa. A member of the UD Alumni Association's Board of Directors, she also is chairperson of its Merchandise and Benefits Committee.

Having served as members of the UD Alumni Association's Parent Board from 1999-2004 and as co-presidents from 2003-04, the Searses recently established the James and Suzanne Sears endowed scholarship in athletics.

"The University of Delaware Alumni Association congratulates and thanks Jim and Sue for their continued support and dedication to the University of Delaware," Davis said.

Article by Jerry Rhodes
Photos by Duane Perry
E-mail this article
Subscribe to UDaily
Subscribe to crime alert e-mail notification