UDaily is produced by the Office of Public Relations
150 South College Ave.
Newark, DE 19716-2701
(302) 831-2791

International Education Week runs Nov. 12-17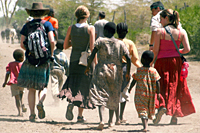 'Sun-drenched Walk' by Alicia Arcidiacono, taken in Tanzania, Winter Session 2006
5:22 p.m., Nov. 8, 2006--Films, lectures, workshops and special ethnic meals will mark UD's International Education Week, to be held Sunday, Nov. 12-Friday, Nov. 17.
Events, which kick off at 7:30 p.m. on Sunday, Nov. 12, at the Trabant University Center Theatre with the Oscar Award-winning fillm Tstosi, about a young black man's life in Johannesburg, are scheduled to take place both on and off campus all week, and are intended to promote and celebrate multiculturalism and international education at UD.
Scheduled events are listed below.
Monday, Nov. 13
A workshop, "Going Global," set for 2 p.m. in the Gallery of the Perkins Student Center, will teach participants how to conduct international job searches and will address the challenges of working abroad. An international job and volunteer fair also will be held from 2-4 p.m. in the Gallery, where participants can learn about opportunities to volunteer and work abroad and get information on the Peace Corps, Cross Cultural Solutions, AmeriSpan and other organizations.
At 4 p.m., in 217 Gore Hall, guest speaker John Ghazvinian, the Andrew W. Mellon Postdoctoral Fellow of the Penn Humanities Forum at the University of Pennsylvania, will lecture on "The Scramble for Africa's Oil."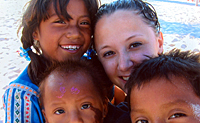 'From New Jersey to Chiapas' by Brittany Tichter, taken in Mexico, Winter Session 2006

At 7 p.m., in Bayard Sharp Hall, David Herman, Trustees Distinguished Professor of Music and University organist, will give a recital and lecture, "Music in Lübeck, Germany: 1930-1945," exploring the lives and work of two German composers, Jan Bender and Hugo Distler.

Tuesday, Nov. 14

At 12:15-1:45 p.m. in 203 Munroe Hall, Eve Buckley, UD history lecturer, will speak about "Science and Modernization in Brazil" in a talk that will explore the development of the Northeast region of Brazil from 1948-1959.

From 5-7 p.m., in the Gallery of the Perkins Student Center, an exhibition of photographs, "Faces of Hope: Photographs from Uganda," will showcase Uganda's people, countryside and struggles.

At 7 p.m. in Mitchell Hall, Scott Anderson, war correspondent and contributing writer to The New York Times Magazine, will speak about the situation in Darfur in a lecture titled "With the Whole World Not Watching: The Genocide in Darfur."

Also at 7 p.m., in 100 Kirkbride Hall, the international film Keep Not Silent will be shown. The film documents the struggle of three lesbian women living in Orthodox communities in Jerusalem.

To cap the day, UD's chapter of Sigma Alpha Iota, the International Music Fraternity, will host "International Musicale" at 8:30 p.m. at the Newark United Methodist Church at 69 East Main Street. The event will showcase the musical talent of several UD faculty and students and will include an array of musical performances from different cultures.

Wednesday, Nov. 15

From 2-4 p.m. at a kiosk in the Trabant University Center, Project Have Hope, a nonprofit organization that helps displaced Ugandans, will sell handmade jewelry from Uganda and collect donated empty ink cartridges. (One hundred percent of the profits will go directly to aid.)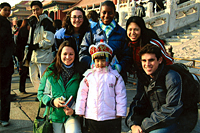 'Meeting Our Xiao Pengyou (little friend)' by Alexander Taylor, taken in China, Winter Session 2006

From 5-6 p.m. in the Kirkwood Room in the Perkins Student Center, the Office of Women's Affairs will present "Ms.," a debate and discussion about women around the world and the different issues they face.

At 5:30 p.m., in 004 Kirkbride Hall, the film Azucar Amarga will be shown. The film offers a critical look at Castro and his regime and will be followed by a discussion facilitated by Persephone Braham, UD assistant professor of foreign languages and literatures.

At 7 p.m., in the lounge of Brown residence hall, a presentation titled "Children of Africa" will explore the effect that the AIDS epidemic is having in Africa, and how this impacts the world.

Also at 7 p.m., in room 120 of the Amy E. du Pont Music Building, the steel drum ensemble, Delaware Steel, will perform a range of music that concentrates on the rhythms and performance traditions of Trinidad.

Thursday, Nov. 16

At 3 p.m. in the Smith Hall lobby, students from 23 countries will highlight their cultures with colorful table displays, authentic music, typical dress and artifacts. Students from UD's English Language Institute will be on hand to answer questions about Saudi Arabia, Taiwan, China, Japan, Korea, Colombia, Brazil, Thailand, Guatemala, United Arab Emirates, Bulgaria, Georgia, Indonesia, Costa Rica, Guinea, Peru, Mexico, Romania, Serbia, Spain, Turkey, Dominican Republic and Venezuela.

At 5 p.m. in 222 Gore Hall, representatives from the National Security Education Program will be present to talk about funding opportunities that are available for U.S. students interested in studying world regions critical to U.S. interests.

At 7 p.m., in the Trabant University Center Theatre, Menbere Alemayehu, a UD alumna and the owner of Menby's Design, will lecture on "The Challenges and Opportunities of Running a Socially Responsible Design Business in Ethiopia." Menby's Design employs 55 Ethiopian seamstresses and weavers who produce materials and garments in favorable working conditions for fair pay.

Friday, Nov. 17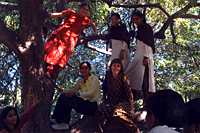 'Climbing the Tameric Tree' by Alison VanBuskrik, taken in India, Winter Session 2006

From 3:30-5 p.m. in 116 Gore Hall, a Fulbright workshop for graduate students will be led by Tony Claudino, director for Fulbright Student Program Outreach at the Institute of International Education in New York. Claudino will discuss Fulbright and other scholarship opportunities for graduate students.

Also from 3:30-5 p.m., in 104 Gore Hall, a Fulbright workshop will be offered to UD faculty. The presenter, Stacey L. Bustillos, program officer for Global Programs at the Council for International Exchange of Scholars in Washington, D.C., will discuss the Fulbright Scholar Program and grants available for U.S. faculty and professionals.

From 7-10 p.m., in 206 Kirkbride Hall, Rika Saito, UD assistant professor of foreign languages and literatures, will explore contemporary Japan cinema and discuss gender and language in the Samurai drama, Hidden Blade.

To cap the week's events, UD's Cosmopolitan Club will host Cosmo Coffee Hour at 9 p.m. at Pat's Pizzeria at 160 Elkton Road. The meet-and-mingle event will give guests a chance to chat with students from different parts of the world, practice foreign languages and learn about different cultures.

International Education Week (IEW), sponsored at UD by several campus units, was established in 2000 by the U.S. Department of Education and the U.S. Department of State. Throughout the week, campuses, embassies and communities nationwide will hold activities to celebrate world cultures and diversity.

All IEW events at UD are free and open to the public. For more information, call (302) 831-2852 or visit [www.udel.edu/international].
E-mail this article
Subscribe to UDaily