President presents FY 2008 budget request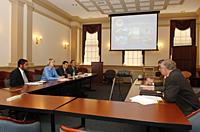 University administrators (right) present UD's FY 2008 budget request to members of Delaware Gov. Ruth Ann Minner's staff.
11:11 a.m., Nov. 30, 2006--Funding increases for K-12 education initiatives, an increased commitment to community service and the creation of new science, engineering and business and economics initiatives at UD were among the items highlighted by UD President David P. Roselle in his presentation of the University's budget request for fiscal year (FY) 2008 to members of the governor's executive staff on Tuesday, Nov. 28, in Dover.
Capital budget requests included $9 million in FY 2008 towards the renovation of Brown Laboratory. The state has previously appropriated $8.5 million toward the $28 million project. The University will provide the remainder of the cost of the project.
Before addressing specific operating and capital budget requests, Roselle highlighted UD achievements over the past 16 years, a time during which he said that the University and the state have strengthened their partnership in service to the citizens of Delaware and the region.
"The University's total operating budget more than doubled, from $286.9 million in FY 1990 to $667.5 million in FY 2006," Roselle said. "The state's share of that budget has increased from $66.5 million in FY 1990 to $115.9 million in FY 2006, up 75 percent."
The number of full-time faculty members at UD has grown from 911 in 1990 to 1,116 in 2006, Roselle said.
"This number includes 108 named professorships, which allows UD to attract the finest scholars externally, while at the same time recognizing excellence in scholarship among faculty already here," Roselle said.
While undergraduate enrollment has increased from 14,546 in 1990 to 15,742 in 2006, the average SAT scores for the entering freshman class rose from 1137 in 1990 to 1205 in 2006.
"The improved academic preparedness has resulted in gains in retention and graduation rates that rank the University among the best in the nation," Roselle said. "UD is ranked sixth in the nation among flagship state institutions in the graduation rate of African-American students, according to a recent issue of The Journal of Blacks in Higher Education. The University's African-American graduation rate is nearly twice the national average."
Roselle also noted that UD is working with the state education department and K-12 school officials to ensure that graduates from Delaware's high schools are prepared to meet the academic rigors of study at UD.
"To that end, we recently announced the Commitment to Delawareans, a program of prescribed study in English, mathematics, natural and physical sciences, social studies and foreign language for an academic career at UD," Roselle said. "The Commitment to Delawareans complements a host of educational reforms in the state, including Vision 2015."

An important factor in the University's emergence as a top teaching and research institution, Roselle said, is the 272 percent increase in externally funded contracts and grants for instruction, research and service, which rose from $39.8 million in 1990 to $147.9 million in 2006. The now-concluded Campaign for Delaware raised $431 million, and the University's endowment now exceeds $1.2 billion, Roselle said.
The University's success over the past 16 years also has benefited from the strong partnerships that UD has developed with state government, Roselle said. Tangible examples include:
The creation of the Delaware Biotechnology Institute (DBI), which has enabled Delaware to successfully compete for support from the National Institutes of Health, the National Science Foundation and other external agencies;
Improving K-12 education by a number of resource models, including the Delaware Center for Teaching Education, the Mathematics and Science Education Resource Center and the Delaware Academy for School Leadership;
Collaborative efforts in the Poultry Diagnostic Laboratory that have helped Delaware to avoid a major outbreak of avian influenza and have helped to support the state's poultry industry, one of the cornerstones of agribusiness; and
University outreach through special lines, especially in the colleges of Agriculture and Natural Resources and Human Services and Public Policy.
"I have been pleased with the ways that our partnership with the state has evolved over the years, and I'm certain that it will continue to strengthen and grow in coming years," Roselle said. "The state is a significant stakeholder in the University of Delaware, and your continued support enables us to more fully serve the citizens of Delaware."
Operating budget requests
The top priority for state appropriations, Roselle said, continues to be increases in scholarship special lines, with UD seeking a total increase of $519,800 to four scholarship special lines.
"The University's admissions standards are structured so that no Delaware resident who projects success will be denied admission," Roselle said. "The underlying philosophy for the scholarships special lines is to support a financial aid [scholarship] program under which no Delaware resident who qualifies to receive a UD education would be denied that education because of inability to pay for it."
Scholarship special lines funding enabled 1,161 Delawareans to receive general scholarship support in FY 2006, including 388 First State residents who received Minority Student Recruitment assistance and 559 Delawareans who received assistance through the Aid to Needy Students program, Roselle said.
The University also is seeking a $330,000 increase in funding for library materials to cover a projected 10 percent increase in the cost of academic journal subscriptions in 2007, Roselle said.
"This means that the University will have to spend an additional $558,000 just to maintain its existing subscriptions," Roselle said. "This does not take into account the new volumes, journals, microforms and databases that must be acquired to maintain this intellectual resource for the University community and the state."
Improving K-12 education in Delaware
Roselle requested funding for enhancements of interrelated special lines directed at improving K-12 education in the Delaware. The initiatives include strengthening secondary education, improving professional development opportunities for teachers and for school and district leaders.
The requests include:
$210,000 for the Mathematics and Science Education Resource Center to support two clinical professional positions that will allow UD to extend the Professional Development School Partnerships to Kent and Sussex Counties;
$210,000 in increased funding for the Delaware Center for Teacher Education to support a secondary reading specialist and a social studies specialist; and
$200,000 for Training and Research in Education Management to further the emphasis on educational leadership through the creation of a Superintendents Academy to train the state's chief school officers to lead change. The funds also would be used to expand the development and use of the state's Correlates of Achievement database.
Roselle said UD also is seeking $1.225 million for a new initiative, the Delaware Excellence in Science and Engineering Program.
"The State Science and Technology Council identified five priority areas for investment of intellectual and financial capital. The state and UD partnered on two of those five priorities last year: Agriculture [Avian Bioscience Center] and Human Health [Center for Translational Cancer Research]," Roselle said. "This request encompasses the three remaining areas: Complex Environmental Systems, Alternative Energy and Nanotechnology."
The funding would support the newly created Center for Critical Zone Research, which examines the complex interactions among rock, soil, water, air and living organisms and their impact on environmental quality and health, Roselle said.
Roselle also noted that UD has nationally recognized alternative energy research programs on solar power and fuel cells and their applications.
"We recently received a $53 million grant to lead a consortium of schools to make more improved solar cells," Roselle said. "The requested funds will enable the University to expand and enhance its work in the alternative energy and nanotechnology domains, while growing its efforts in the Center for Critical Zone Research."
Additional operating budget requests include:
$100,000 special line for software licenses;
$100,000 for public service and applied research programs;
$100,000 to cover costs associated with increased demand for tests for avian influenza, as well as other diseases that adversely impact the state's poultry industry;
$135,000 in funds for the Agricultural Experiment Station;
$137,000 for Cooperative Extension to fund an agricultural agent to work with agronomic crops and livestock for producers in southern New Castle County;
$100,000 for the Center for Disability Studies to provide support services to some 6,000 to 8,000 adults with disabilities in Delaware who are living with their families but not receiving support from state agencies; and
$100,000 for Agricultural Business and Development, a collaborative effort between the College of Agriculture and Natural Resources and the Lerner College of Business and Economics.
Roselle also requested $150,000 for the creation of an Institute for Economics and Business Research in the Lerner College of Business and Economics.
"The institute will support the business and public sectors in Delaware and the region by providing expertise, research and analysis, including economic forecasting, economic analysis of legislative and public policy proposals, business planning and overviews of relevant and timely business issues," Roselle said. "The institute is the functional complement to other University entities that support economic development, including the Small Business Development Center, the Institute for Public Administration and the Center for Applied Demography and Survey Research."
FY 2008 capital budget requests
Leading the list for FY 2008 capital budget requests is $9 million for the renovation of Brown Laboratory.
The building, which houses the Department of Chemistry and Biochemistry, honors the memory of H. Fletcher Brown, UD benefactor and UD trustee from 1929-44. The renovation project, which includes the south and west wings, is estimated at $28 million, with $17.5 million to be requested from the state over the life of the project. The remaining costs will be provided from University resources, Roselle said.
"Brown Laboratory, home to the Department of Chemistry and Biochemistry, underwent $6.5 million in renovation to its south wing in 1995-96," Roselle said. "The west and north wings now require similar renovation that is currently underway and scheduled to be completed by the end of 2007."
Facilities renewal and renovation
Roselle also requested $1.5 million for facilities renewal and renovation. The University has 3.4 million gross square feet of academic facilities, of which 35 percent are at least 45 years old, Roselle said. "The requested funds will be matched at least on a one-to-one basis through University resources, and will assist us in keeping our academic plant current and in good repair," he said.
Minor capital improvements
The University also is seeking $1 million for minor capital improvements and equipment, Roselle said. Funding will be used for targeted research initiatives in the colleges of Marine and Earth Studies, Agriculture and Natural Resources, Arts and Sciences and Engineering, Roselle said.
Research initiative areas include the molecular biology of DNA repair and its application to genetic medicine; identification of specific genes involved in specific diseases and their controls; biophysics and bioengineering; quantitative analyses of cellular processes; and genomic systems engineering and biomechanics.
"With your assistance over the years, we have made significant investments in the equipment and facilities required to pursue this type of research," Roselle said. "Continued support from the state will play an important role in improving our facilities and equipment in order to attract the very best faculty to teach and engage in research."
Roselle said the $1 million requested represents the amount that was previously appropriated to UD's operating budget in FY 2003 and FY 2004, returned to the University's capital budget in 2005 and then cut from the budget without subsequent restoration in FY 2006.
"We got snookered. Failure to restore these funds places an undue burden on a University that has been more than responsive in using its own resources to assist the state through difficult economic times," Roselle said. "I want to point out that this request for $1 million to our operating budget represents a portion of the funds that I will request in the capital budget for renovations and remodeling. It matters not to us whether the funds are restored to the operating or the capital budget, so long as they are restored."
New undergraduate research building
Roselle also asked legislators for $1 million toward the construction of an undergraduate research facility. The requested funds will support preliminary design activity.
"In order to provide modern teaching facilities for the laboratory sciences, and to support research expansion in existing science buildings, the University is planning for a new undergraduate science building," Roselle said. "We anticipate that the total cost for this facility will be in excess of $30 million, with costs to be shared between the state and the University."
Article by Jerry Rhodes
Photo by Kathy F. Atkinson
E-mail this article
Subscribe to UDaily
Subscribe to crime alert e-mail notification