African-American Students of Distinction honored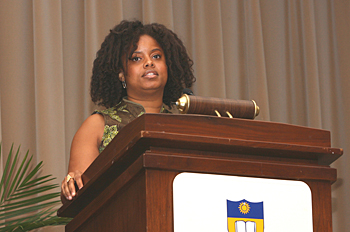 Click here
to view slideshow
3:43 p.m., May 8, 2007--More than 204 African-American students with grade point averages of 3.3 or higher were recognized for their achievements in a special ceremony attended by family members and hosted by UD President David P. Roselle on Sunday afternoon, May 6, in Clayton Hall.
Joining Roselle in recognizing the African-American students of distinction were Wunyabari Maloba, assistant vice president for affirmative action and multicultural programs, and keynote speaker Nyasha Grayman, assistant professor of individual and family studies at UD.
Music at the ceremony included a vocal performance by Nathan Hall, AS '07, who was accompanied by Hyun Soo Kim, AS '08, on piano. The closing musical selection, an a cappella piece, was performed and written by Hall.
"We're here to congratulate all the African-American students of distinction," Roselle said, "and to celebrate what they mean to the University and to encourage them in their future careers.
"You're here because you're good students, and because you ask questions about how you can make things better," Roselle said. "Keep asking those questions, because it's really fun to live the life of an inquiring mind...."
After Hall and Kim's musical performance, Maloba introduced Grayman by citing her credentials and summarizing her background.
"It's my honor to introduce this afternoon's main speaker," Maloba said. "She only joined the University in 2005, but her appointment here is unique, and she has done so much.
"She is a trained therapist who has worked with inner-city communities, as well as at college counseling centers," Maloba said, "And because of her interest in multicultural intersections, she has a rich research agenda. We expect much out of her because she has so much to offer."
Grayman said that she was honored to be a guest at the ceremony. "Thank you for inviting me to be a part of your special day," Grayman said.
"You are here because your academic performance has really set you apart from your peers. For many of you, this accomplishment represents cumulative long-term planning and execution. You are the visionaries who set academic achievement as your goal early in your career and you have worked strategically to achieve that goal."
Grayman encouraged students to take advantage of all opportunities offered, including UD's undergraduate research and study-abroad programs. She also shared anecdotes from her own academic struggles.
"Academically, I was a late bloomer," Grayman said. "I was afraid of failure and terrified of success, so I did just enough to get by in my advanced placement classes. This kind of thinking plagued me until I got to grad school."
Grayman credited mentors and professors for releasing her from her own constraints and fears of success, and she urged those present to pursue their ultimate potentials with no reservations before concluding her remarks.
"Once I learned that my academic success was about purpose and not progress, I was willing to take the risk that was required to strive for excellence."
Below is a list of the African-American Students of Distinction honored at Sunday's ceremony.
COLLEGE OF AGRICULTURE AND NATURAL RESOURCES
Jermaine Best, Engineering Technology
Olivia Gibson, Animal Science
Robert Gooden, Animal Science
Ayeley A. Okine, Animal Science
Jarvon Tobias, Animal Science
COLLEGE OF ARTS AND SCIENCES
Mary Akhimien, English
Lammont Baker, Sociology
Victoria Balque-Burns, English
Darreisha M. Bates, Psychology
Brittany Battle, Sociology
Michelle Blum, English
Jessica L. Bohbot, International Relations; History
Jessica Bruton, Biological Sciences
Stacy Burwell, Spanish Education
Priscilla Caldwell, Biological Sciences
Margot Campbell, International Relations
Kheshia R. Cashwell, English
Richelle Chapman, Visual Communication
Noah Chase, Communications
Kimberly Collick, Sociology
Keith Collins, International Relations
Sean Connally, Sr., History
Maya Constantine, Fine Arts
Antonia DeLuz, English
Deanne Dewar, Psychology
Alicia R. Downer, Anthropology
Charles E. Drummer, IV, Biological Sciences
Shanise Edwards, International Relations
Maria E. Feurer, International Relations
Stephen Grant, Criminal Justice
Lauren Graves, English
Jennifer Green, International Relations
Teagan Gregory, History
Tyanna Hadley, Biological Sciences
Jean Pierre Ndugu, Biological Sciences
Corrine Handy, French/Political Science
Judith M. Harper, English
Lovena Henry, Criminal Justice
Amber Hikes, English
Norman Hill, Biological Sciences
Jessica Holloway, Foreign Languages and Literatures
Takara Hopps, English Education
Roxanne Horrell, Biochemistry
Shon Jablonsky-Watkins, Mathematics Education
Laura Johnson, Biological Sciences
Rodderick Johnson, Jr., English
Rachel Knopp, Biological Sciences
Richard L'Abbee, Music Theory and Composition
Minna Latortue, Psychology
Renee Leverette, Philosophy
Ashley Lockwood, Sociology
Lorraine Makone, Political Science
Norell Manning, English
Breonna Martin, Biological Sciences
Stephanie A. Martin, Women's Studies
Darrell McBride, II, Biological Sciences
Brittany McCants, History
Diona F. McIntire, Spanish Education
Aklecia McVoy, Biological Sciences
Erin Milbourne, Fine Arts
Lindsay Milbourne, English
Clark Miller, Sociology
Naomi J. Moore, History Education
David M. Nelthropp, Criminal Justice
Jennifer A. Newell, Foreign Languages and Literatures/Psychology
Tamika Odrick, Geography
Ronald C. Ogbonna, Psychology
Thea Ogunusi, Sociology
Petra Palmer, English Education
Shaila Parker, Biochemistry
Sarah Peterson, Music Education
Shannan Powell, English
Ashley Prather, Criminal Justice
Daniella Price, English/Sociology
Lisha Purnell, Criminal Justice
Tiffany N. Reed, Criminal Justice
Alexandra G. Reid, Music Education, Instrumental
Sharon Riddick, English
Mohammed Sabrin, English
Donald A. Scott, Computer Science
Alaina Shamlin, Art History
Andrea Smith, Art
Gregory Snead, Criminal Justice
Mandy Sparber, English
Garth Spencer, Political Science
Devon L. Streett, Criminal Justice
Amanda Strickland, English Education
Erik S. Sutherland, Philosophy
Carine Mungo Tata, Chemistry
Charlene Taylor, English Education
Anthony Tibuah, Biological Sciences
Candice Tolud, Chemistry
Myeshia Tucker, Psychology
Mfon-Valencia Umoren, Biological Sciences
Kyle Vaughan, Spanish/Political Science
Olita T. Veasey, Psychology
Michelle Wanja, Women's Studies
Arianna White, Sociology
Mia J. White, Psychology
Joseph Whitney, Applied Music-Instrumental
Megan Williams, Spanish/Political Science
Melinda Williams, Women's Studies
Michelle A. Williams, Psychology
Sarah Woody, Biological Sciences
Kiesha Wright, Psychology
Chati L. Zony, Biochemistry
ALFRED LERNER COLLEGE OF BUSINESS AND ECONOMICS
Anthony Bailey, Accounting
Kathleen Chappel, Marketing
Larry D. Depte, Jr., Finance
Jeffrey Fisher, Management
Parren Fountain, Management
John F. Higginson, Economics
Samiyah Y. Iddinn, Accounting
Dayna Jallice, Accounting
Frederick Ludd, Management/Marketing
Quinn Novels, Finance
Nicole Sam, Marketing
Angela Scott, Marketing
Rachid Stoury, Management Information Systems
Nicole Tull, Management
Dionna Tyson, Accounting
Courtney Walton, Marketing
Matthew Wilson, Marketing
COLLEGE OF ENGINEERING
Chondra Almeida, Chemical Engineering
Christopher W. Dixon, Computer Engineering
Khadir A. Griffith, Electrical Engineering
Jennifer Harris, Civil Engineering
Antoine McClure, Civil Engineering
Jessica K. Nance, Computer Engineering
Aaron Nelthropp, Computer Engineering
Kevin Pulley, Mechanical Engineering
Brandon Robinson, Civil Engineering
Mark Tadros, Mechanical Engineering
Jesse Whitley, Mechanical Engineering
Pierre Yao Koffi, Mechanical Engineering
Candice Yee, Chemical Engineering
COLLEGE OF HEALTH SCIENCES
Tolulope Akinfeleye, Nursing
Catherine Asem, Nursing
Kainde Barduae, Nursing
Marina Caldwell, Medical Technology Interest
Johnita Christmas, Nursing
Lisa Davis, Nursing
Olutomi Dosunmu, Nursing
Thomas Ebanja, Medical Technology Interest
Karen Ellis-Brisbon, Nursing
Alice Faulks, Nursing
Cassondra Francis, Nursing
Bryce Gaines, Athletic Training
Nicole Gardner, Nursing
Shakiah Gilstrap, Nursing
Janelle Green, Nursing
J'nai Grymes, Exercise Science Interest
Valerie Holmes, Nursing
Talisha Hopkins, Nursing
Randall James, Health Studies
Vanzetta James, Nursing
Elizabeth Lancaster, Athletic Training
Jessica May, Medical Technology
James Mburu, Nursing
Kawansi Newton, Nursing
Pierre Ngili, Nursing
Ian Njoroge, Biochemistry
Monica Osei-Afriyie, Nursing
Ihuoma Ottih, Nursing
Dominique Perkins, Nursing
Richard L. Rosenblum, Health Behavior Management Interest
J'Nelle Scarbriel, Nursing
Ashley Seth, Nursing
COLLEGE OF HUMAN SERVICES, EDUCATION AND PUBLIC POLICY
Corrissa Banks, Fashion Merchandising
Lawanda E. Bowe, Fashion Merchandising, Apparel Design
Diana Lynn Brinkley, Human Services
Bianca Brown, Human Services, Education and Public Policy
Jamie Chamberlain, Elementary Teacher Education
Brian Copes, Leadership
Angela L. Dickinson, Elementary Teacher Education
Laurice H. Elia, Early Childhood Development and Education
Joseph Finney, Leadership
Brandi R. Gilbert, Elementary Teacher Education
Amberdawn Griffith, Leadership
Kelli Hawkins, Elementary Teacher Education
Dana M. Jackson, Elementary Teacher Education
Jean Kennedy, Family and Community Services
Marie Monika Menuau, Hotel, Restaurant and Institutional Management
Michelle Mixson, Human Services, Education and Public Policy
Arleysha Morris, Early Childhood Development and Education
Shantee Morris, Leadership and Consumer Economics
Alexandra Patterson, Early Childhood Development and Education
Ebony Payne, Family and Community Services
Danielle Robinson, Hotel, Restaurant and Institutional Management
Sha'Laina Sample, Early Childhood Development and Education
Yvonne L. Sanya, Elementary Teacher Education
Faythe Kamille Smith, Family and Community Services
Monaay Walker, Fashion Merchandising
Ashley West, Apparel Design
UNIVERSITY STUDIES
Darryl Brown, University Studies
Dawn Byrd, University Studies
Alyssa Curtis, University Studies
Erin Ferguson, University Studies
Kialeen Hay, University Studies
Byron Lynch, University Studies
Article by Becca Hutchinson with reporting by Kamesha Medley
Photos by Kathy Atkinson