Gilbert selected new vice president for student life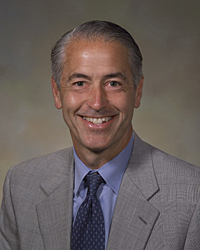 6:18 p.m., May 23, 2007--Michael A. Gilbert has been named vice president for student life at the University of Delaware, effective Aug. 1, University President David P. Roselle announced May 23 at the semiannual meeting of the University's Board of Trustees.
Gilbert will join the senior administration at UD after having served as the assistant vice president of campus student services at Pennsylvania State University at University Park since 2005.
"Michael Gilbert will make an excellent addition to the UD community," Roselle said. "With an excellent record of experience in a range of student life areas, he is an enthusiastic and student-centered administrator who will build on the University's strong programs in student life."
"I look forward to working closely with Michael Gilbert," UD Provost Dan Rich said. "He will play a key role in further enriching the quality of student life and its integration with the University's overall educational objectives."
As UD vice president for student life, Gilbert will report to the provost. He will oversee the development, coordination and implementation of student affairs programs consistent with regulations promulgated by the faculty and trustees.
Gilbert will have responsibility for the administration of programs in campus life, career services, counseling, health services, judicial affairs, multicultural programs, residence life, services for athletes, the student centers and student wellness. He will work closely with academic leaders to strengthen all facets of the educational experience of UD students.
"The University of Delaware is a distinguished institution with an outstanding faculty, staff and student body, and I am delighted to have the opportunity to join the senior administrative team as the vice president for student life," Gilbert said. "Clearly, UD is a leader with the quality of its traditional student services and with development of innovative programs that link academic and student life staff efforts to promote student learning on both sides of the classroom door. I look forward to my Aug. 1 arrival at UD and to working closely with these very talented staff and student leaders to enhance their educational experiences."
Gilbert has served in a broad range of student affairs administration positions for more than 25 years.
At Penn State, Gilbert led initiatives to enhance the student experience at Penn State's 19 campuses and directed five student affairs administrative units on the main campus, including student activities, financial affairs, information technology, student affairs development and human resources. In addition to his administrative duties, Gilbert has been a member of the faculty at Penn State, where he has taught a master's course in student affairs.
Before joining the administration at Penn State, Gilbert was director of housing services at the University of Massachusetts Amherst from 1995-2005. Earlier, he worked in a variety of roles in residence life and student affairs at Northeastern University, North Carolina State University, the University of Wisconsin, Illinois State University and Michigan State University.
He is a member of the American College Personnel Association, the Association of College and University Housing Officers and the National Association of Student Personnel Administrators.
Gilbert received a doctorate in higher education policy, research and administration from the University of Massachusetts in 2004, a master of education degree in student personnel services in higher education from Michigan State University in 1981 and a bachelor's degree in political science from the University of Vermont in 1979.