Blue Hen Stoury spins academic success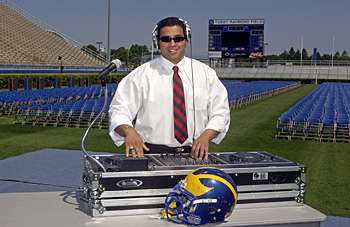 4 p.m., May 26, 2007--He graduated from the University of Delaware with a 3.34 grade point average and a double major in accounting and information technology. His academic performance was so good that he already has a job in New York City working as an accountant for a global accounting firm with 140,000 employees in 149 countries.
But, achieving academically wasn't always Rachid Stoury's dream.
Stoury, a 6-foot, 265-pound, defensive lineman for the Fightin' Blue Hens football team, once had dreams of playing in the NFL.
"Every athlete, from the time he picks up a soccer ball or football, has these dreams. If you don't have dreams of going all the way, you're not going to push yourself to the next level," Stoury said.
His ambition to become a professional athlete began at Upper Darby High School, where he played offensive tackle, nose tackle and outside tackle.
Stoury came to the U.S. when he was 3, lived in New York until he was 12 and then moved to Upper Darby, Pa., when his mother, Malika Bousada, got a better job.
The Moroccan-born Pennsylvanian always was a good student. He was in the National Honor Society with a 3.6 GPA and an aptitude for math in high school.
"Education was always first with my family, especially, my mother. She used to always say, 'No matter what happens, your education can't be taken away from you.'"
But, his high school football career was in full swing, and in his senior year, Stoury was selected starting nose tackle for the Big 33 Showcase, a football game between some of Pennsylvania's and Ohio's best players.
Football scholarship offers came from West Virginia, Villanova, James Madison and William and Mary.
He chose West Virginia and was red-shirted in his freshman year. When the coach who recruited him for the Mountaineers left West Virginia, he asked Stoury to come to Alabama with him, but Stoury wanted to be closer to home. He had seen UD win the NCAA Division 1-AA national championship against Colgate and was impressed, but more than that, Stoury said, UD had a reputation for being academically sound.
"I totally changed my outlook and persona when I came to UD," he said. Realizing that his future was not in the NFL, he said he was determined to do what was necessary to succeed in the job market.
He changed his major from computer network engineering to accounting and management information systems, began spending more time on academics and even tutored his teammates in math. While he did all of this, he totaled 27 tackles and two sacks as a Blue Hen and twice won varsity letters.
"I really had a chance to open a new chapter in my life," he said. "I didn't get much sleep and didn't have much social life, but, my family always taught me to get my priorities straight."
When football season ended in November, a friend talked Stoury into working as a disc jockey, and he's been spinning ever since. "DJing is an awesome hobby and it's fun," Stoury said, "but I'm not sure I'll be doing it in New York." He said his next goal is to pass the lengthy examination to become a certified public accountant.
Article by Barbara Garrison
Photo by Sarah Simon