Tearful gratitude by graduate who triumphed over disability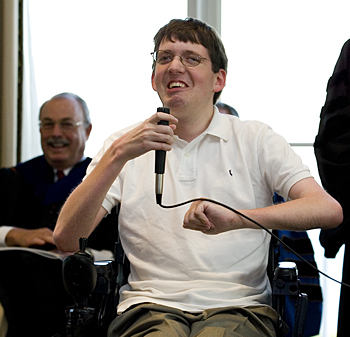 4 p.m., May 26, 2007--Dozens of people were moved to tears during the Southern Delaware Convocation on Thursday evening, May 24, when Sumner Spence paid tribute to his family for helping him overcome the challenges of cerebral palsy and earn an associate in arts degree. Spence and his family received a standing ovation from more than 300 students and family members who attended the ceremony at the Rehoboth Beach Country Club.
Spence was overcome with emotion when he singled out his twin brother, Steve, a 2006 UD graduate who is now a law student at Widener University, for his help and encouragement when they shared a room at UD's Newark campus for two years before Sumner Spence transferred to the associate in arts program at UD's Academic Center in Georgetown, closer to his family in Rehoboth Beach.
"Sumner could not have done what he has done without his brother's support, especially when they lived together in Smyth Hall," their mother, Susan Spence, said. "Their relationship as twins has been remarkable. That's why he was emotional."
During the 2 1/2 years that Sumner Spence studied in Georgetown, his mother accompanied him to all his classes, typed all class notes and other reading material and scanned more than 5,000 textbook pages and edited the text for accuracy, so that a computer could read the text to him.
"He is tenacious when he wants something," Susan Spence said. "He is very disciplined, very thorough. He would read everything his professors would ask him to read. His siblings would say, 'That's crazy.' It's been a journey to do this with him and the best part is that he had to take exams, and I didn't. He's a remarkable kid and his dream to earn the degree was so important to him that I didn't have to say 'Sumner, you have to do something,' it was more of him saying, 'Mom, do you have some time?'"
Susan Spence, who received an elementary arts education degree from Pennsylvania State University but stopped working to raise her twin sons and a younger daughter, Kelsey, downplayed her role in Spence's accomplishment, but her husband, Stephen, said she put in "supreme" effort.
"You can't find words to say how proud I am of both of them," Stephen Spence, a business lawyer and partner at Phillips, Goldman & Spence, with offices in Wilmington, Rehoboth Beach and Dewey Beach, said. "Just imagine what it would take to take a 400-page textbook, scan it page by page and edit it and turn the text into an audio file, then think of all the classes."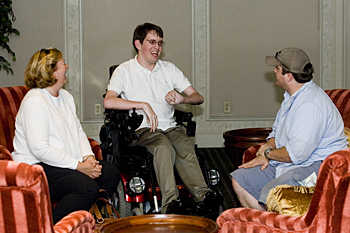 Stephen Spence said Sumner Spence has excellent memory and outstanding comprehension skills, so the process of converting the books into audio files made all the difference in his education. "She ought to be asking for a degree as well because she's taken every course," he said jokingly of his wife.
"It's been a blessing to have computers that can read things for him instead of his mother doing it. I don't think we could have accomplished this without technology. That has been a terrific boost," Susan Spence said, adding that multiple sclerosis has slowed her down.
Susan Spence said all the staff at the Georgetown center were very helpful to Sumner, particularly Anne Colwell, associate professor, who she described as "one of the finest professors I have ever had."
Stephen Spence said Sumner Spence faced major challenges during his first two years on the Newark campus, but he received plenty of assistance through the efforts of UD alumna Julie Moyer-Knowles, a "terrific" group of five graduate physical therapy students, who volunteered to help and became known as "Sumner's Angels," and financial assistance from Easter Seals of Delaware.
Stephen Spence said the joy that Sumner Spence showed at his accomplishment underlines the need for educational institutions to continue to improve the facilities and support systems for people with disabilities. He said his family, including Kelsey, a freshman at UD's Newark campus, has learned a lot from Sumner Spence's experience, lessons that they are willing to share in order to improve conditions for students who face similar challenges.
Article by Martin Mbugua with assistance from Sharon Dorr
Photos by Kevin Quinlan