Super stars in service to UD announced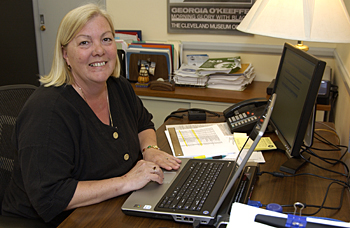 3:50 p.m., May 4, 2007--Three University of Delaware employees will be honored with UD's $2,500 Excellence in Service Awards on Thursday, May 10.
The award recognizes professional and salaried staff who are on the front line in providing excellent service to students and the University community at large and who have made a positive and lasting impact at UD.
The three serve the University in widely diverse ways, but all are united in their commitment to the University and to going the extra mile in their jobs. One won kudos for her expertise and help in switching from SIS+ to UD's new student information system, UDSIS. Another is a master machinist whose expertise can translate plans and equipment into functioning laboratories. The third has demonstrated innovation and commitment in serving students, the University and the community at large, especially in the field of environmental education.
Diane Davis, assistant registrar, received 23 nominations from individuals in departments and colleges campus wide.
According to Suzanne Clark, assistant dean of student services in health sciences, Di, as she is generally known, "has been an invaluable resource and provided crucial assistance to all faculty, students, departments and offices with the University as the transition was made from SIS+ to UDSIS for student records and transition."
Clark continued by writing, "Di's knowledge of the University is unsurpassed. She knows policies and programs.... She can help a music student or faculty with their specific requirements as easily as she can assist an engineering student and faculty."
According to Cynthia Shenkle, assistant dean in the College of Arts and Sciences, "The numbers of students whose records and registration are impacted by the work of this one individual are mind-boggling, yet Di works seemingly tirelessly and is always willing to assist."
Karri VanBlarcom, general adviser in the College of Agriculture and Natural Resources, wrote, "Di Davis has been a phenomenal resource throughout our UDSIS transition.... From my perspective, Di essentially became the 'expert' in registration with the new system and was always available to answer questions and offer assistance."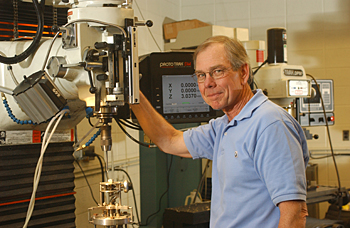 "1-800-DiDavis" is what we say when we need help," wrote Renee Fisher, administrative academic advisor at the UD Academic Center in Dover. "Any professional needing help with UDSIS would have been lost without her constant help and kindness.... No one is more deserving of this award."

Thomas K. Reed, a master machinist in physics and astronomy, received nominations from departmental faculty members and others who praised him for his expertise in setting up and maintaining laboratories, his instruction of students in making equipment and using tools in the machine shop and for his help in organizing social events for the department, such as serving as master chef at the department's pig and lamb roast picnic.
Reed is a "super star," according to George Hadjipanayis. Robert B. Murray Professor of Physics and chairperson of the Department of Physics and Astronomy, "who "goes above and beyond his expected responsibilities....
"Tom has played and continues to play a major role in the smooth operation of the physics department's Magnetics Lab....He was extremely helpful in assisting to build the rest of the lab to its current status, which is one of the best in country for this type of research."
In recent renovations, Hadjipanayis wrote, Reed saved the department and the University tens of thousand of dollars by his involvement.
Edmund Nowak, associate professor, wrote that when he first arrived, "Tom volunteered his expertise and time on electrical, plumbing and carpentry jobs" in establishing his research lab. "In some respects he has been a mentor to me...in terms of the nuts-and-bolts of getting research space established and maintaining it," adding that Reed has been an "educator for countless students" training them with machine shop tools, adding that the students "revere him." Nowak concludes by writing, "Please recognize this guy--he is really first rate."
Stuart Binder-Macleod, Edward L. Ratledge Professor and chairperson of the Department of Physical Therapy, wrote that when he first arrived on campus Reed was willing to help out a "junior faculty member in need. The equipment that he fabricated helped to launch my career. For that, I will always be grateful."
Gerald Hendricks, a research manager in plant and soil sciences, was nominated by Tom Sims, associate dean for academic programs and research in the College of Agriculture and Natural Resources.
Sims wrote, "Jerry is one of the most dedicated employees and has consistently demonstrated a commitment to service to his colleagues in our college, our students, the University as a whole and the community at-large."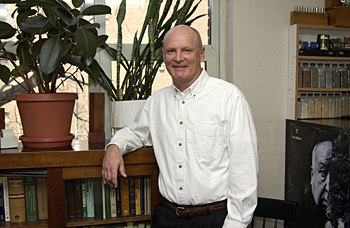 According to Sims, Hendricks initiated and coordinated a community-oriented vegetable garden for graduate students across campus on the Newark farm in 2006. The first years the garden produced more than 500 pounds of fresh vegetables that were donated to the Food Bank of Delaware. The program is to be extended in 2007 with food for use at the Blue & Gold Club. The project introduced graduate students to gardening, community service and also "fostered a spirit of cooperation and camaraderie among students from different departments...."
Hendricks also led efforts to improve recycling, using his own time for taking some things like Styrofoam to local recycling companies. He instigated a committee to come up with an educational recycling program for the college.
In the community, Hendricks has captained a University bicycle team that has participated in the annual Multiple Sclerosis Bike to the Bay for the past 14 years. More than 200 team members have raised more than $57,000 in support of the MS Society.
Sims also said that Hendricks has served on the board of the Fair Hill Environmental Foundation, been involved in the Delaware 4-H Environmental Camp and has been a mentor to students at McVey Elementary School for five years.
In summary, Sims wrote, Hendricks is "committed to excellence in all of his University-related activities," adding, "His many efforts in the area of environmental education clearly are having a positive and lasting impact...."
Article by Sue Moncure
Photos by Duane Perry