Harker announces two senior staff appointments
6:05 p.m., May 23, 2007--University of Delaware President-elect Patrick Harker has announced two senior staff appointments:
Patricia Plummer Wilson, currently chief of staff and director of faculty administration at the Wharton School of the University of Pennsylvania, will become vice president and chief of staff, effective July 1.
Scott R. Douglass, vice president for finance and treasurer of the University of Pennsylvania, will serve as senior vice president, beginning Aug. 1, and will become executive vice president, effective Jan. 1, 2008.
"I am pleased to be able to bring two valued colleagues from the University of Pennsylvania with me to Delaware," Harker said. "I've worked closely with them both, and I know their talents and enthusiasm will be valuable at UD."
"Patricia Wilson is a trusted adviser and leader," Harker said. "For the past 10 years, I have depended greatly on her superb administrative abilities, and she has done a stellar job. I am exceedingly pleased that she has agreed to continue our association at Delaware.
"Scott Douglass, in addition to being an excellent administrator, brings a unique set of Delaware credentials with him to this new post, as a UD alumnus and as a former state secretary of finance and budget director," Harker said. "Working closely with him when he was at Wharton, I witnessed his leadership, commitment and creativity, and I know he will be a great asset to my executive team.
"I am also pleased that Scott will have the opportunity to work with David Hollowell, executive vice president and treasurer. While David recently announced his intention to retire, I was aware of his plans in December, providing me ample opportunity to identify a successor," Harker said. "David Hollowell has been most helpful during my transition period this year, and I know Scott will benefit immeasurably from his insights this fall, preparing him to assume the role of executive vice president in January."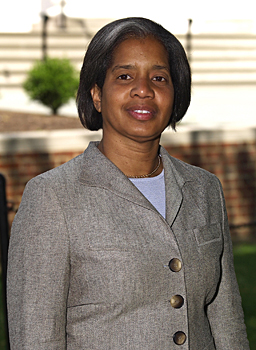 Patricia Wilson
"I am excited about the challenges and opportunities that this new position offers," Wilson said. "I look forward to learning more about the University of Delaware, meeting the faculty, staff and students who make it such a special place and continuing to work with someone as dynamic as Pat Harker."
Wilson has served as chief of staff in Wharton's Office of the Dean since 1999, with responsibility for implementing the school's strategic plan and attaining its annual goals. Involved in academic planning and management issues, she coordinates the school's academic and administrative activities and manages the financial and administrative functions of the dean's office.
Before assuming her current post, Wilson was director of faculty administration at Wharton from 1997-99. Previously, she held posts at University of Chicago as associate director for alumni relations and the University of Pennsylvania as assistant vice provost for graduate education.
She holds a bachelor's degree in psychology, with a minor in education, from Newton College of the Sacred Heart and received a certificate in higher education administration at the Institute for Women in Higher Education Administration at Bryn Mawr College.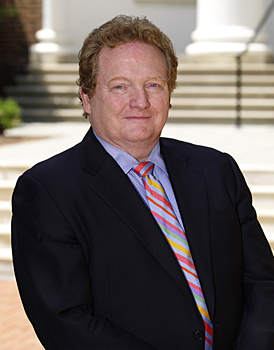 Scott Douglass
"It is a special pleasure to return to the University of Delaware," Douglass said. "The stature of the University, coupled with the opportunity to work closely again with Pat Harker, made this career move irresistible."
As Penn's vice president for finance and treasurer since 2004, Douglass is responsible for the university's financial operations. He also serves on the Penn Medicine Board. Recently, he secured an upgrade from Moody's Investor Services in the university's rating to AA2 from AA3.
Before assuming his current post, he was at the Wharton School from 1992-2004, serving first as associate dean and then as senior associate dean for finance and administration. During that time, he led the team responsible for the programming, design and construction of Huntsman Hall, a $140 million classroom and office facility.
Douglass was secretary of finance for the state of Delaware from 1991-92 and Delaware's state budget director from 1986-91. After leaving state government, he chaired the Delaware Economic and Financial Advisory Council from 1993-2000.
Douglass holds bachelor's and master's degrees in political science from the University of Delaware and has completed work in the doctoral program in political science/public administration at Syracuse University's Maxwell School.

Photos by Kathy F. Atkinson