3 seniors honored for humanitarian work in Guatemala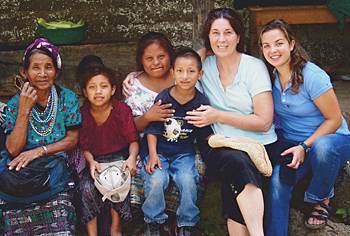 4 p.m., May 26, 2007--When April Veness, associate professor of geography, began a research project on Guatemalan immigrants in southern Delaware, she had no idea that it would lead to a water project in a remote village, San Isidro, in the western highlands of Guatemala.
"It was a unique and satisfying experience for me and my students to have years of building relationships materialize when San Isidro completed its potable water project," Veness said.
Because of their assistance with the water project, funded by a matching grant from the Rotary Foundation, three UD seniors--Sarah Archbald, Catherine Singley and Catherine Feeley--were honored by Rotary District 7630 for their humanitarian service to the people of San Isidro at a ceremony in April. The three had received grants from UD to help support their research and service.
"San Isidro is only 38 miles from the capital city of San Marcos, but the trip takes about five hours over winding, unpaved, sometimes impassable roads. The people are subsistence farmers, and the houses are scattered over a large area. It is not a compact village, which meant that laying miles of pipeline from the springs to the village to provide potable water to each family was a huge and expensive challenge," Veness said.
Women used to walk half an hour to an hour with plastic jugs to get spring water, according to Veness, and families collected water off roofs in barrels and buckets. Now, thanks to a network of caring people and organizations, all the families have potable water.
Veness and Archbald are planning to make the journey to a daylong dedication ceremony and celebration of the water project in San Isidro this month.
The story began in 2001 when student Jennifer Koppenhaver asked Veness to be her senior thesis adviser on the topic of Guatemalan immigrants in southern Delaware. Together they got to know and talk with families in the Georgetown area. In 2002, Veness and Koppenhaver, with grants from UD, traveled to several villages in the San Marcos area to talk to relatives of the Delaware immigrants. Later, two other students, Sarah Wolf and Wendy Garcia, with UD funding, also took part in the research visits.
In the meantime, Veness connected with the Wilmington Catholic diocese, which had a partnership with the Diocese of San Marcos, and learned that the San Marcos diocese focused on water projects.
In 2005, enter Rotary District 7630, which had earlier given a Rotary Ambassadorial Scholarship to Koppenhaver to study in Guatemala City and also helped fund the trip of a 13 year-old boy, Eddiee Valasquez, to accompany Veness to Guatemala to visit his grandmother. Because of these funding projects, the Rotary district became aware of the needs of the immigrants and their relatives in Guatemala.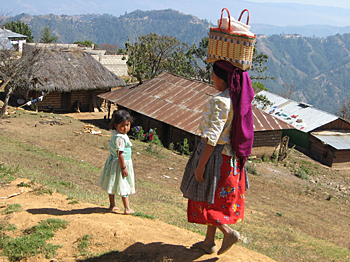 In 2006, networking among all the players began and things began to happen on the San Isidro project. Veness, who has a joint appointment in the College of Human Services, Education and Public Policy, received a Rotary Grant to University Teachers to be used as a visiting professor at the Centro Universitario de San Marcos (CUSAM) during her sabbatical year in 2006-07.
At the same time, "a formal, funded partnership for the water project was forged between Rotary District 7360, the Rotary Club of San Marcos (with matching funding from the Rotary Foundation), the technical team for water projects from the dioceses of San Marcos and members of the San Isidro community in Georgetown and San Marcos," Veness said.
Last August, Veness, Singley and Archbald traveled to San Isidro to confirm that the water project was on its way.
Singley recalled, "April has built up a network of trust with people in both places. The village was very excited about the project, and when we arrived, they came out to welcome us in the pouring rain. San Isidro has been on a waiting list for water for decades, and the elders felt they were a forgotten part of the country."
Singley, who was a Social Science Scholar in UD's Undergraduate Research Program, researching how nongovernmental groups work across the borders, said, "This was a wonderful opportunity for my research to visit with people who have immigrated to Delaware and with others in their home village in Guatemala. There is a generation gap, with some children living with their grandparents in Guatemala, while their parents work in the U.S."
This year, Veness made two more visits to San Isidro, once with Jennifer Reider, past president of the Newark Rotary Club, to finalize paperwork and once with Guatemalan team members to observe construction.
The actual labor was done by the citizens of the village. It was important that they buy into the project and be a part of it, Veness said. Household and public buildings now have outdoor sinks, latrines and a wastewater system. In addition, the villagers learned how to use the system and keep it in repair.
"I am delighted about the valuable connections that have been made and am proud of the talented women students who worked with me," Veness said. "I am grateful to UD's alumni assocation, the Undergraduate Research Program and the Center for International Studies, which helped fund them. The students called themselves the Guategirls. Having them with me to help with fieldwork, translation, the social demands of being guests and travel logistics was very helpful and personally rewarding.
"Living and traveling in the countryside was not what any of us were used to, but we adjusted. In past years, the students and I stayed with families, and we got around however we could--on 'chicken buses,' on the back of pickup trucks, by foot--you name it," she said. The Guategirls were true ambassadors, according to Veness, gracious, friendly and flexible.
"During my extended sabbatical in San Marcos, Catherine visited for two weeks, and Sarah and I stayed in a house in San Marcos owned by Guatemalans in Delaware. They had never lived there so it was left 'as is' by the construction crew. We cleaned it up, painted some of the interior and left the owners a gas propane stove and other items," Veness said.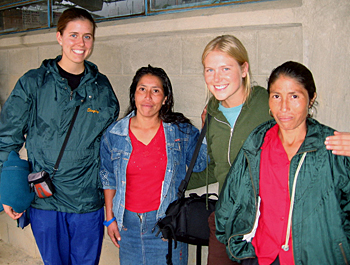 Using footage from her research trips, Veness also made a video documentary with Archbald's assistance. Called "Making it Home: the Transnational Migrant Community of Sussex County, Delaware, and San Marcos, Guatemala," Veness and Archbald have shown the working version of the film to various groups on and off the UD campus and also at CUSAM.
"The viewing at CUSAM surprised us," Veness said. "The more educated, elite segment of Guatemalan society has little direct experience with the personal lives of the indigenous Mayans who make up the majority of the population of San Marcos and are the poorest. When the university audience saw the humble interiors of the homes we visited and listened to my conversations with these families, they were visibly discomfited. Likewise, some were amazed that the poorly educated migrants who were in Delaware, spoke to me in English at a level that surpassed their own. Stereotypes based on race and class are commonplace in many parts of Guatemala."
When Veness and Archbald visit San Marcos this month, they will continue research documenting the changes underway financed by money that is sent home by family members in Delaware.
At the invitation of the San Marcos Rotary Club, Veness also will meet with a U.S.-based organization, Builders Beyond Borders, to discuss construction of a school for the deaf in 2008.
Veness's trip this month will be her last to Guatemala for some time as she works on a book based on her research here and in Guatemala. She said she also needs to "rediscover making Delaware her home for herself."
Veness received her bachelor's degree from the University of Arizona, her master's degree from Michigan State University and her doctorate from the University of Minnesota. She joined the UD faculty in 1986.
Article by Sue Moncure
Photos courtesy of April Veness