UD Relay for Life raises $140,000 to fight cancer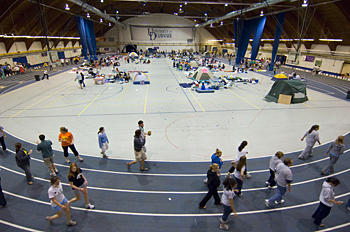 Click here
to view slideshow
4:14 p.m., May 7, 2007--UD's sixth annual Relay for Life marathon, the all-night walking fundraiser held from 3 p.m. Saturday, May 5, through 6 a.m., Sunday, May 6, at the Delaware Filed House, drew more than 1,000 UD students, faculty, staff and family and community members.
"Turnout for the event was really great," Relay for Life event co-chair Meghan Herwig, a senior health sciences major from Woodbury, N.J., said. "Fifty-seven survivors and virtual survivors [survivors not present who were represented by sponsors and walkers] participated in the event, and that's why we hold it. That number was more than twice the turnout from last year."
Herwig said opening ceremonies put participants in a hopeful frame of mind and got the event off on a celebratory note.
"We had great weather, a lot of enthusiastic participants, and the opening speech and National Anthem, which was sung by a winner from the 'UD Idol' contest, really added to the atmosphere at the event," Herwig said.
Proceeds, which at last count topped $140,000, will go to benefit the American Cancer Society, and efforts continue to raise an additional $60,000 before the Aug. 1 cut-off.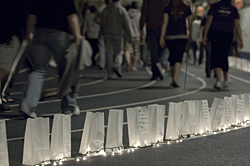 "We fell a little short of our fundraising goal," Herwig said, "but it was an ambitious goal, and we did everything we could to reach it."
To make a donation and help meet this year's goal, go to [www.acsevents.org/ud] and make a pledge by July 31, 2007.
Article by Becca Hutchinson
Photos by Jon Cox