'Peace on The Green' remembers Lindsey Bonistall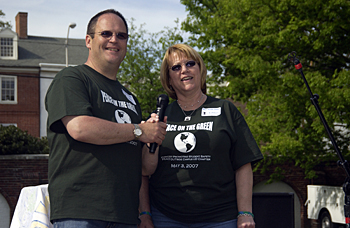 4:27 p.m., May 4, 2007--"Peace on The Green," held from 4-9 p.m., Thursday, May 3, on UD's North Green, honored the memory and celebrated the life of
Lindsey M. Bonistall
, the UD sophomore English/journalism major from White Plains, N.Y., who was murdered May 1, 2005, in her off-campus apartment by an intruder not known to her.
The event, which was sponsored by the PEACE OUTside Campus Lindsey M. Bonistall Foundation, a nonprofit organization dedicated to promoting safe off-campus living environments for college students, was highlighted by remarks from Mark Bonistall, Ms. Bonistall's father, who organized the event and lined up the five local bands and DJ who provided the five hours of live entertainment.
"This [event] is about promoting safety," Bonistall, who drove from New York to attend and speak at the event, said.
In addition to Bonistall's remarks and performances by Pull Out Couch, Three Legged Fox, Fever Dog, Hollis Browne, Tait Miello and DJ D-Mart, the event included tables staffed by more than a dozen public safety organizations.
Addressing the hundreds of UD students, staff, faculty and members of the campus and Newark communities present at the event, Bonistall remembered his daughter and focused on the importance of maintaining safe living environments off-campus by creating strong networks, communicating with landlords and installing safety devices such as deadbolts, window locks, door bars and good lighting in hallways and parking lots.
Bonistall said UD has been a big support to the PEACE OUTside Campus mission, but he added that he wished officials would change some safety issues he has pushed for, such as requiring students to sign up to receive e-mail notification when information about recent crimes is posted on the University's web site.
While Newark, too, has been brought into the PEACE OUTside Campus mission, with one local landlord adopting the foundation's Certified Off Campus Housing Program and, most recently, Towne Court, the complex where Lindsey was killed, adopting the program after its management made program-recommended changes, Bonistall said that most landlords and property management firms have chosen not to go through the process of being certified by the program, because the safety features recommended by the foundation for college-age renters are not mandatory.
PEACE OUTside Campus has grown to include chapters at five other universities, and three more are in the works, Bonistall said. A new web site promoting the foundation also is scheduled to launch by the end of May.
While at UD, Ms. Bonistall was valued by classmates for her kindness to others, her sense of humor, her energy and her spirited involvement in a number of campus activities. Additionally, Ms. Bonistall was recognized for her writing ability and contributions to The Review, UD's student newspaper.
The Lindsey Marie Bonistall Memorial Scholarship, established by the University of Delaware, with the assistance of friends of the University, was created in May 2005 to honor Ms. Bonistall and her love of writing. Awarded annually to an outstanding rising senior student of journalism, the scholarship was established with initial gifts of $50,000 to the endowment.
Persons who want to add to the scholarship endowment may send contributions to the Office of University Development, 109 Hullihen Hall, University of Delaware, Newark, DE 19716. Checks should be made payable to the University of Delaware, with a notation "In memory of Lindsey Bonistall."
Article by Becca Hutchinson
Photo by Sarah Simon, AS '06