Dispose of unwanted move-out items at the 'UDon't Need It' site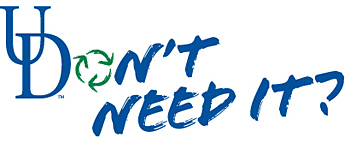 12:12 p.m., May 17, 2007--Students moving out of a UD or off-campus residence who find they have usable items they no longer need should not toss them in a trash bin. Instead, bring the items to the UDon't Need It Student Move Out site located at 225 Paper Mill Rd., from 8 a.m.-8 p.m., Monday, May 21-Sunday, June 3.
Volunteers at the Paper Mill Road site will help unload and sort items for distribution to those less fortunate. Items needed include furniture, lamps, dishes, towels, computers, carpets, cooking utensils, new and unopened soap, shampoo and toiletry items.
Also, both the Food Bank of Delaware and Ministry of Caring and Planet Aid will be accepting various items at several UD locations from Monday-Saturday, May 21-26.
Food Bank of Delaware will accept unopened, nonperishable food items at collection bins located at the Kent, Pencader, Russell and Rodney dining halls, as well as the lobbies of the Perkins and Trabant student centers.
Ministry of Caring and Planet Aid collection boxes for clean, used clothing and shoes (in bags, please) will be located at Harrington Commons, the Laird Campus parking lot and the Rodney Complex parking lot.
For more information and directions to the 225 Paper Mill Rd. UDon't Need It Student Move Out collection site, visit [www.GreenDelawareRecycling.com/StudentMoveOut.html].
UDon't Need It is sponsored in part by a grant from the Delaware Department of Natural Resources and Environmental Control. Partners for the 2007 project include Green Delaware Recycling, Planet Aid, Ministry of Caring, Food Bank of Delaware, AmeriCorps/State Office Of Volunteerism, the City of Newark, Newark Town and Gown Committee/Environmental Cooperative and the University of Delaware.