MFA art exhibition in Philadelphia draws hundreds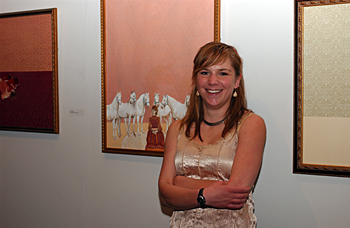 Click here
to view slideshow
3:55 p.m., May 15, 2007--The first ever group exhibition by University of Delaware master of fine arts (MFA) candidates in Philadelphia drew hundreds of visitors during the opening reception on Saturday, May 12, at the Crane Building, 1400 N. American St., in Philadelphia's South Kensington neighborhood.
The thesis exhibition of the MFA class of 2007, which includes works of art in many different media and genres, will be on display until June 2. The gallery is open from noon-6 p.m., Wednesdays, Thursdays, Fridays and Saturdays.
Kyla Luedtke of Newark, who is showing five pieces of her combination of painting, drawing and printmaking, said showing the art in Philadelphia is a big advantage for the students.
"I'm just so grateful to have the exhibition in Philadelphia, especially when we have other shows going on in the same building," Luedtke said of exhibitions by MFA candidates from the University of Pennsylvania, photography seniors at the University of the Arts in Philadelphia and undergraduate printmaking students at Temple University's Tyler School of Art. "The cross-pollination is really nice."
Luedtke, who handed out business cards to visitors, said that among the scores of people who were keenly interested in her work were an art collector and an architect.
The UD exhibition attracted more than 500 visitors, including many drawn from other exhibitions on the same floor in the former home of the Crane Plumbing Co.
Two Drexel University students, Casey de Pont, a senior film and video major from Washington, D.C., and Allison Perrelli, a senior communication major from Baltimore, said they had gone to see the University of Pennsylvania show and decided to visit the UD exhibition, as well.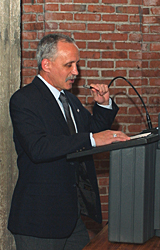 "There is a lot of variety," de Pont said of the UD exhibition. "Everyone will find something here that they would like to see. It's not just one media."
Virginia Bradley, professor of art and chairperson of UD's Department of Art, said the proximity of the show to the arts community gives the students' work more visibility. "We hope that this is the beginning of a new tradition and that we'll be here every year."
Tom Apple, dean of UD's College of Arts and Sciences, said he is determined to make the exhibition at the Crane Building a regular event.
"We are hoping that we can somehow do this on a permanent basis and do that in Philadelphia," Apple said. "We really would like to get a foothold in Philadelphia and to be right next to an exhibition by seniors at the University of the Arts is a tremendous recruitment opportunity for the program. Philadelphia is in our back yard, so we would like to have a presence here."
Article by Martin Mbugua
Photos by Sarah Simon