Trustees hear of achievements, Class of 2011 profile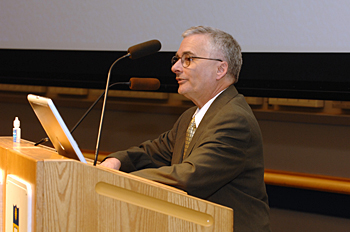 1:42 p.m., May 24, 2007--A total of 3,668 students selected from 23,201 freshman applicants, the largest freshman class in UD's history will comprise the Class of 2011, Louis L. Hirsh, director of admissions, told members of UD's Board of Trustees at the semiannual meeting, held May 23 in the Trabant University Center.
"Two hundred eighty-three of our new freshmen have SAT scores of 1400 or higher on the 'old' SAT, or 2100 or higher on the 'new' SAT," Hirsh said. "That's more high scorers than we ever have enrolled in a single entering class. More than half the class have SAT scores of 1200 or higher or 1800 or higher (depending on which of the two SATs you like to use), and 62 freshmen will be graduating next month as either the valedictorian or salutatorian of their high school class."
There are 1,055 Delawareans in the Class of 2011, Hirsh said, while 2,613 come from out of state. This class is 12.5 percent larger than this year's entering class.
A trend that Hirsh particularly emphasized and said gave him and the UD admissions office staff "the greatest satisfaction," is that the Class of 2011, in addition to being UD's largest class ever, will be the "most ethnically diverse" entering class in the history of the University.
"Of the 3,668 freshmen in this fall's class, 653 are students of color," Hirsh said. "This means that 17.8 percent of the freshman class is comprised of students whose heritage is Asian-American, African-American, Hispanic-American, Native American or Pacific-Islander American. In particular, there are more Asian, black and Hispanic students in this class than there ever have been before--4.6 percent of the freshmen are Asian, 5.9 percent are black and 6.9 percent are Hispanic."
Hirsh noted that UD's Commitment to Delawareans provides an academic roadmap of the courses that students should take in high school and the grades that they should earn in them if they want to be confident of gaining admission to the Newark campus.
He also expressed his enthusiasm at the number of glowing letters of recommendation he received with applications and read from several attesting to the high caliber of students entering UD this fall.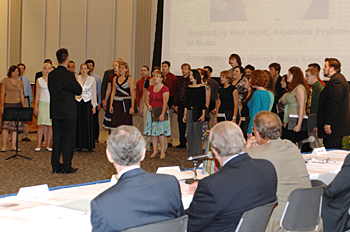 In conclusion, Hirsh thanked UD President David P. Roselle, Provost Dan Rich and University Registrar Joseph DiMartile and said that "the successes of the past year would not have been possible without [their] unflagging support and encouragement." Hirsh also expressed his gratitude to the admissions office and financial aid office staffs.
Rich also spoke at the meeting, acknowledging student and faculty achievements, awards and honors and asking those present who were recognized to stand for formal congratulations.
In his remarks to the board, Roselle, who steps down as UD president June 30, spoke of recent successes, challenges and changes at UD, including reaction to the recent tragedy at Virginia Tech, the transition to incoming UD President Patrick Harker, and the mature handling of the Cinco de Mayo incident by the Campus Alliance de La Raza at UD and the UD chapter of Phi Sigma Pi.
During his presentation, members of the UD Chorale gave the trustees a sampling of their award-winning repertoire, including the song that recently won the group the Grand Prix at the 10th International Choir Festival in Estonia.
Also at the semiannual meeting, the trustees re-elected officers for the coming year and welcomed new trustee John R. Cochran, senior executive of Bank of America Card Services. In addition, two new trustees were elected to the board: the Hon. T. Henley Graves, resident judge of Superior Court in Sussex County; and Courtney L. Moore, a UD senior graduating with a bachelor of science degree in human services, education and public policy. Moore will serve as the recent graduate trustees, replacing Chelina Tirrell, who completed two one-year terms. Vice Chairman Robert A. Fischer Jr. thanked Tirrell for her service to the board and in particular for her work on the Presidential Search Committee.
Article by Becca Hutchinson
Photos by Kathy Atkinson