Lawrence Putterman awarded Medal of Distinction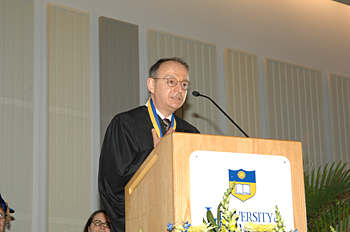 4 p.m., May 26, 2007--Lawrence Putterman, administrator of the Leo and Karen Gutmann Foundation, was awarded the University of Delaware's Medal of Distinction at the art, art conservation, art history, visual communication and fine art convocation, held May 26 in the Trabant University Center Multipurpose Room.
The Medal of Distinction is presented to individuals within the state and region who have made humanitarian, cultural, intellectual or scientific contributions to society, have achieved noteworthy success in their professions or have given significant service to the University, state and region.
Howard E. Cosgrove, chairman of UD's Board of Trustees, congratulated graduates then introduced Putterman as "a very special person who has made significant contributions to graduate level education in art history and art conservation at the University of Delaware."
As administrator of the Leo and Karen Gutmann Foundation, dedicated to supporting full-time UD graduate students enrolled in departments of art history, archaeology and art conservation, Putterman has administered nearly $2 million in awards to students in the departments of art history and art conservation over the past five years.
Before establishing the grant program in 2001, Putterman met one-on-one with art history and art conservation students over a five-day period to better understand the students' immediate financial needs, career goals and longer-term aspirations.
Over the years, the grants have provided annual support for rent, student fees, photo copying, student memberships in professional organizations, workshop expenses, funds for art history and art conservation books, up to $3,500 per student.
Putterman not only administers the foundation, Cosgrove said, but he also maintains a relationship with grant students throughout their lives. He corresponds personally with students during their time at the University and beyond graduation, has attended many professional conferences specifically to hear students speak and to offer his support and encouragement, has been an honored guest at student weddings and a regular recipient of birth announcements, and "he is a caring member of our professional community and an exceptional advocate for our graduate students and faculty," Cosgrove said.
"We are grateful to Larry Putterman who has made an extraordinary impact on the lives of many of our recent graduate students," Cosgrove said.
Article by Barbara Garrison
Photo by Kathy Atkinson