First Callahan Prize awarded to Katharine Hepburn scholar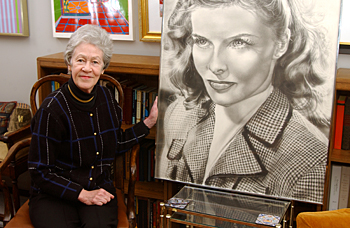 4 p.m., May 26, 2007--Bonnie Moxey Maxwell of Greenville, a doctoral candidate, graduate of UD's Master of Arts in Liberal Studies (MALS) Program and a respected scholar of actress Katharine Hepburn, was awarded the inaugural Raymond Callahan Prize at an evening ceremony held May 24 at UD's Blue & Gold Club that also recognized three honorable mention award recipients and seven graduates of the MALS Program.
The award, established by the College of Arts and Sciences and named after Raymond Callahan, a former full-time professor in the MALS Program who taught at UD for 34 years, served as associate dean of the college and still maintains a supplemental position in the program, includes a check for $1,000, a certificate of honor and an inscribed plaque.
"As everyone in the program knows, we all need inspiration," Maxwell said upon accepting the award from Callahan, "and I have found mine throughout my association with the University of Delaware."
Maxwell said her inspiration came from numerous UD colleagues and professors who encouraged her quest for knowledge and her intellectual curiosity and constantly challenged her to achieve higher levels of scholarship. Quoting one close associate, Maxwell likened "the inspirational nature of her faith" to the excitement of "'a kid with a flashlight,'" and said that that wonder was "the spirit in which [she] approach[ed her] work in the MALS Program."
Maxwell, who was chosen for the award from a selective pool of 30 MALS graduates (which was then narrowed down to four finalists, three of whom received honorable mention awards), was bestowed with the honor because of her thoroughgoing, consistent scholarship.
"Hepburn once described herself as a force of nature and the same can be said of Bonnie Maxwell," Gary May, director of UD's MALS Program and professor of history, said in introducing the award.
In researching Hepburn's life May said Maxwell was tireless in pursuing even the most tortuous leads to learn as much as she could about the famously private actress and added that her body of work was a valuable contribution to popular Hollywood history.
Article by Becca Hutchinson
Photo by Kathy Atkinson