Senior stacks diverse courses in three majors, two minors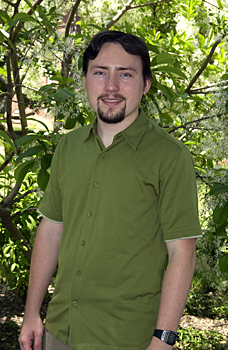 4 p.m., May 26, 2007--Barnabas Seyler came to the University of Delaware in the fall of 2003 as a landscape horticulture major with the goal of becoming an administrator in a public horticultural facility, but his interests in other areas blossomed and he is graduating in the Class of 2007 with three majors--landscape horticulture, plant science and East Asian Studies--and minors in philosophy and plant biology.
Seyler, from Walkersville, Md., said he initially did not think that he could combine so many interests, but he said he found a great opportunity at UD and took it.
"During the course of my undergraduate study, I discovered the vast opportunities and resources available at the University of Delaware, stemming partly from the breadth of college requirements, and, perhaps more importantly, from the immeasurable flexibility one has in fulfilling these requisites," he said.
Seyler said his academic adviser, Sherry Kitto, professor of plant and soil sciences, encouraged him to take advantage of the flexibility of college courses and pursue his interests, even if they were in different disciplines.
"I therefore began taking several philosophy courses," Seyler said. "After heartily enjoying this field, I soon decided to add a philosophy minor. I also developed keen interest in plant science after taking a botany class, so I added it as a major during my sophomore year. While selecting courses for spring semester of my sophomore year, I looked through the course offerings and I was intrigued by the possibilities, so I decided to take a Chinese language course.
"That choice was intended to complete a college requirement in the literature and arts category, but after taking more Chinese courses, I realized that the classes no longer fulfilled any requirement and counted only as electives. I discussed it with one of my Chinese professors and decided to add an East Asian studies minor," Seyler said.
A hobby painter and sculptor who enjoys gardening, Seyler said his interest in East Asian studies led him to what he described as "a whirlwind of academic rigor" and participation in a study abroad session in China during the winter of 2006. The experience led him to elevate the minor into his third major. He also had added plant biology as a minor.
"I've been told by several people: 'With so many different majors and minors, you must not know what you want to do,'" Seyler said. "I say to them: 'I know exactly what I want to do. That's why I am doing all that.'"
Seyler, who will continue his studies in UD's Longwood graduate program and hopes to eventually earn a doctorate, said he would like to work with Chinese gardens and horticultural facilities and help build relationships between them and their counterparts in the U.S.
"Entering as a freshman, I never envisioned myself taking Chinese language, let alone studying abroad in China," Seyler said. "Without a doubt, I believe that the vast opportunities and resources afforded at the University of Delaware are incredibly important in encouraging students to develop their career paths to their full potential. They have for me."
Article by Martin Mbugua
Photo by Sarah Simon