Prof and minister honored with leadership awards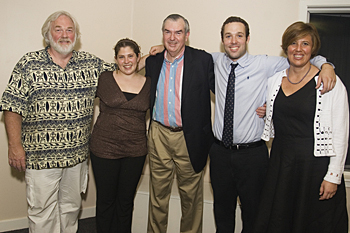 2:10 p.m., May 22, 2007--Stephanie McClellan, assistant professor in UD's School of Urban Affairs and a New Castle County councilmember, and Greg Chute, minister of the Unitarian Universalist Fellowship in Newark, each were honored with the 2007 "Community Counts" Leadership Award at a fundraising banquet held May 11 at the Unitarian Universalist Fellowship Hall.
Established by Battle for Life, the UD student organization that is focused on raising funds for HIV/AIDS-ravaged communities in South Africa, the inaugural award went to both McClellan and Chute for their commitment to community service and their efforts to better the city of Newark, Jeremy Whiteman, Battle for Life co-chairperson, said.
"We thought it would be nice for Battle for Life to involve more of the community of Newark and honor people who make a difference in Newark and then use the money raised from the banquet to lend our support to the communities in South Africa who need it," Whiteman, a senior political science major from Toms River, N.J., said.
"Dr. McClellan stood out because she's a UD professor and somebody who took the time to make a difference in the community by becoming a councilwoman," Whiteman said. "Rev. Chute stood out because he's a local Unitarian minister and because he has organized several service trips to New Orleans, West Virginia, South Dakota, Belize and South Africa."
Both McClellan and Chute were nominated for the awards by all 30 members of Battle for Life and received special acknowledgment from Newark Mayor Vance Funk, who spoke at the banquet.
Besides publicly honoring both awards recipients, the banquet, which was organized in part by Dafnah Meron, a senior in UD's College of Human Services, Education and Public Policy from Rockaway, N.J., raised $2,700. The funds, collected from donations made by the 55 guests who paid $35 per plate, will benefit aid organizations in South Africa.
Whiteman, who is a member of UD's Alpha Lambda Delta honors fraternity, of which Battle for Life is a subgroup, said that he became interested in helping South Africans afflicted by HIV and AIDS after a study-abroad experience there during his sophomore year at UD.
"I traveled to South Africa in my sophomore year and came back and started working for Battle for Life," Whiteman said. "This year, we decided to organize a banquet."
The ambitious fundraiser, in the works since Winter Session, was assembled with food bought and donated from Costco and staffed by members of Battle for Life.
"Most of the food we got was prepared, so there wasn't a lot of cooking," Whiteman said, "but members of Battle for Life made the salad and served the guests and cleaned up afterward."
Active at UD for the past seven years, Battle for Life has raised funds for South African orphanages, daycare centers and scholarship programs. Whiteman said he hopes the charity banquet and Community Counts award will become annual traditions.
Article by Becca Hutchinson