David Hollowell to step down at end of 2007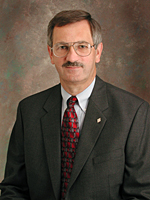 11:27 a.m., May 4, 2007--David E. Hollowell, executive vice president and treasurer at the University of Delaware, has announced his plans to step down at the end of 2007.
Hollowell came to UD in 1988 as senior vice president for administration, with responsibilities for budget planning, facilities, personnel, administrative computing and dining services, among other areas. He was promoted to executive vice president in 1996, to better reflect the expanded scope of his administrative responsibilities. In 2002, he added the responsibilities of the treasurer to his portfolio and was named executive vice president and University treasurer.
"The end of this year will mark the completion of 20 years as chief administrative officer of the University of Delaware," Hollowell said. "When I came to UD in January of 1988, I found a staff that included many talented individuals who continue to serve with distinction. Since then, I have been joined by many new colleagues, and over the past two decades we've been able to make a real difference in this institution. It's been a great pleasure to work with all these dedicated individuals, and I feel very good about the University's current position and its potential for the future."
During Hollowell's tenure, a number of significant milestones have been achieved, including:
The University's budget has tripled from $242 million in FY88 to $743 million in FY08;
The endowment has grown by over $1 billion;
More than $900 million has been expended or committed for construction projects, with this amount being nearly evenly split between new construction and renovation of existing facilities; and
Based on satisfaction surveys, UD employees, students and friends are feeling much more positive about the University now than was the case 20 years ago.
"Among the first people I met when I came to Delaware was Dave Hollowell," UD president David P Roselle said. "I learned early on that he has great common sense, good ideas and a remarkable capacity to get things done. Over the years, it has been a great personal pleasure for me to be one of what is commonly referred to as 'the Daves.' He has had a wonderful impact on the University."
"David Hollowell has played a major role in the transformation of the University of Delaware over the last 20 years," Howard Cosgrove, chairman of the Board of Trustees, said. "As one example, his foresight and leadership have been key in maximizing one of the University's best assets, the physical campus. Our signature buildings have been revitalized and new buildings have been constructed, all with David's careful attention to fiscal responsibility. I know the other members of the Board of Trustees join me in thanking David for his invaluable service to the University."
During his tenure at UD, Hollowell has taken a leadership role in the transformation of student services at the University, including the opening of one of the first one-stop student service facilities in the country. He also has been instrumental in oversight of the major building and renovation program that has significantly improved the learning and living environment on the campus.
Hollowell has been active in the Society for College and University Planning (SCUP), an international organization of more than 4,000 members devoted to all areas of higher education planning. In 1997, he was awarded the society's Distinguished Service Award, which recognized his service and commitment to SCUP's goals and activities. Hollowell has served SCUP in many capacities, including as president in 1994-95; as chairperson of the Strategic Planning Task Force, which produced a guide for the organization's transition into the 21st century; as a national conference chair; and as a frequent presenter and committee member.
In 2005, he was named an honorary member of the American Institute of Architects (AIA) for his role in campus renewal and expansion at UD and Boston University. Later that year, he was named an honorary member of the Delaware Chapter of the American Institute of Architects.
He also has served on the board of the Delaware chapter of the March of Dimes, including as its chair from 1998-99. He currently serves as treasurer of the Middle States Association of Colleges and Schools and on the board of WSFS Bank.
He has published a number of book chapters and articles including: coauthor-with Margaret McDermott, assistant director of Facilities Planning and Construction at UD-of a chapter in the book Technology-Driven Planning: Principles to Practice, published by SCUP; a chapter, "Student Services: A Broad View," in Planning for Student Services: Best Practices for the 21st Century, another SCUP publication; and most recently he co-authored a SCUP-published book, Integrating Higher Education Planning and Assessment: A Practical Guide, with Michael Middaugh, assistant vice president for institutional research and planning at UD, and Elizabeth Sibolski, executive vice president of the Middle States Commission on Higher Education.
Before coming to UD, Hollowell was vice president for administration at Boston University, where he earned bachelor's and master's degrees in engineering and an M.B.A. He also completed a diploma program in financial planning.
His wife, Kathleen, recently retired as director of the Mathematics and Science Education Resource Center at UD.
Photo by Kathy F. Atkinson