Green project's blue bins cut cardboard waste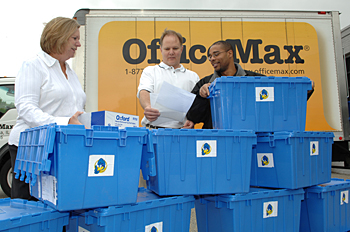 2:57 p.m., May 21, 2007--Every week for the past five years, approximately 295 cardboard boxes packed with staplers, pens and other office supplies ordered from UDMart, UD's online shopping system, were loaded onto OfficeMax trucks and delivered to UD offices. This year, however, the boxes have a different look.
Tory Windley, director of UD's procurement services and UD alum, joined forces last summer with another UD alum, Kevin Nerlinger, account manager for UD at OfficeMax, to replace the boxes with bright blue bins. UD's Graphic Communications Center created YoUDee stickers to place on the bins, which now travel around campus in place of the cardboard boxes.
Windley said the University has a contract with OfficeMax worth $1.4 million a year, meaning a lot of cardboard boxes were left on campus as waste. "I think of the program as waste avoidance," Windley said. "Now, everyday that trucks come on campus, they're filled with blue bins. We feel really good about the program."
Nerlinger said the program has kept more than 15,000 cardboard boxes out of the landfill. "It's going very well," Nerlinger said. "We were concerned this would be very difficult to work but it's worked very well."
It took a few tries before the transition to the current bins. The original bins had removable lids that came off in the trucks after a bumpy ride, Windley said, adding the bins also had trouble going through OfficeMax's automated system. The current bins have interlocking finger-like tops that secure the supplies during delivery and are banded down for an accurate system reading.
As OfficeMax has more than 20,000 items available through its distribution system, Nerlinger said the company's system is highly automated, making it difficult at first to use the bins. "With the program, we had to figure out a way to make the bins work in our automated warehouse. We had to find a bin that would be suitable for both the deliveries and the automated system."
Windley said OfficeMax was very receptive to the program, and trained their drivers and workers to adapt to the bins, which can hold more office supplies than its cardboard counterpart.
Windley said the company is using the program as a selling point for other customers, and she serves as a reference for its success. "I think as a University and Procurement Office, we try to be environmentally aware," she said. "This has a huge, ongoing, multiple-year impact and it's highly visible."
Nerlinger said the success of the program might change the way the company operates in the future. "People in our headquarters in Chicago have heard about the program and are taking a good close look at it to see if it's something we should institute with other customers," he said. "It's another way we can be environmentally responsible."
Windley said the University has been environmentally conscious for a long time and the program is yet another step to "green" the campus. "People who run the office, they have embraced the program," she said. "They understand it's really better for all of us to do it this way."
Article by Julia Parmley, AS '07
Photo by Kathy Atkinson