History-loving grandmother graduates at 74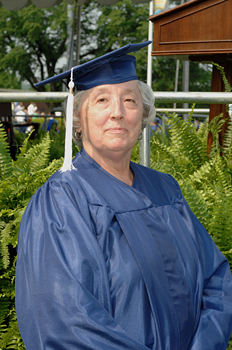 4 p.m., May 26, 2007--"I think what really motivated me to finish up and graduate was the fear that when I die my obituary would say I was still a senior at the University of Delaware," Joe Ann Knauss, a very young and lively 74-year-old, said with a laugh. "I had no idea it would lead to my 15 minutes of fame," the oldest member of UD's Class of 2007 added.
Knauss earned her bachelor's degree in history a scant 55 years after her husband, Donald L. Knauss, graduated with a bachelor of science degree in chemistry with the Blue Hen Class of 1952. Over the years, all five of the Knauss children attended UD, there is a grandson attending now and another set to enroll in the fall. Son, James Hale Knauss, now a teacher in Easton, Md., is a UD grad, as is Donald Jr., a salesperson in New Jersey.
Other Knauss offspring--Steven J., Christopher S. and Anne--all attended UD, eventually finishing their degrees elsewhere. Grandson Christopher T. Knauss is currently a junior, and his brother, Michael, will become an official Blue Hen in the fall.
Joe Ann grew up in Martinsburg, W.Va., and entered West Virginia University in 1952. In those days, money was tight and her plan was to work a year, save up money and go to school for a year at a time. One of her in-between school jobs was as a secretary for DuPont River Works, where her life changed forever when she met Don, who was working there as a chemist.
"Suddenly, starting a family with Don seemed like a better idea than college," she said.
The couple eventually moved to Delaware, Don's home state, when he took a job with Congoleum. Joe Ann went to work as a secretary in an accounting office after all five children were in school full-time. She took her first class at UD in 1975. It was an accounting class that her company paid for.
"I got my foot in the door and realized that I really could keep up with the kids," she said.
Her interest was piqued, and she continued taking continuing education classes for fun. At the urging of her children, she began to get serious about a degree in 1994 at the age of 60 and had her credits transferred from West Virginia.
"I was dreading the math and the science, although two of my science credits from West Virginia were accepted," she said. "I had a great teacher for math. He was patient and talked us through things. There were even minutes when I could see how everything made sense."
But history and art history are her true loves, she said. Trying to decide which to major in was a toss up she said, but in the end she opted for history because more classes in that subject were offered at the Wilmington Campus, which is closest to her home in north Wilmington.
One of her favorite classes was the history of the 1920s from which she learned a lot about her mother's generation. She said she also enjoyed taking a required course on video.
"It was wonderful to be able to stop and rewind until I could get something," she said.
And how was it taking classes with students the same age as her grandchildren?
"They are so bright," she said. "They've lived so much for their young ages. They've traveled and read. My last class was in African-American history, and these kids are part of a generation that has heard about Martin Luther King Jr. since they were 3. They knew every name the instructor mentioned. I had to raise my hand and ask who we were talking about from time to time. I had a lot of catching up to do.
"But the young students were very polite and helpful. Very often they would open the doors for me. I don't know if they thought I was a professor or just old.
"College pushes you to do things you wouldn't ordinarily do," she added. "In my theatre class, for example, we were required to actually participate backstage in some phase of a production. I went to Arden and sat in the sound booth for a performance. I would never have done that otherwise."
Knauss said she has no plans for a career change and looks forward to continuing her part-time work at the Brandywine Hundred Library. She also enjoys working as a volunteer at the Brandywine River Museum. Her husband works part-time for Accurate Office Machines and enjoys tennis, bowling and shooting pool. He is an active member of the Presbyterian Church of the Covenant and the local chapters of the American Chemical Society and the American Society for Quality Control.
"Obviously I'm very proud of my wife," Donald Knauss said. "It takes a lot of perserverance to do what she did. Going to school, raising a family and traveling."
Donald Knauss said that when he graduated in 1952, the ceremony was much smaller--small enough for a class photo and a free cap and gown.
"We just walked across the steps at the library--Memorial Hall--and got our diplomas. The next Monday I started to work," he said. "This time around we have box seats and will be going out to dinner to celebrate. Eight of us will go to Commencement, and then all the kids and grandkids will come for Convocation."
Joe Ann Knauss said that she and her husband enjoy attending the athletic events of their 14 grandchildren and are planning a trip to Alaska.
"Going to the University of Delaware was a total pleasure," Knauss said. "I enjoyed everything except, of course, exams and term papers. My only regret is that it's over. But, I suspect I'll still take a course now and then," she adds, pointing to a T-shirt from her sister that reads, "The truly educated never graduate."
Article by Beth Thomas
Photo by Kathy Atkinson