Two students recognized for academic achievement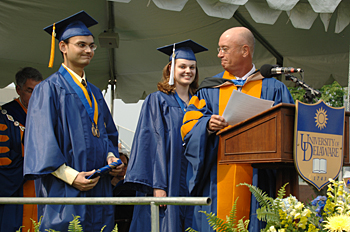 4 p.m., May 26, 2007--Two students in the University of Delaware's Class of 2007 were recognized for achieving the highest cumulative grade index--4.0--in full-time study for a baccalaureate degree at the University during Commencement on May 26.
Recognized at the ceremony by Robert A. Fischer Jr., vice chairman of the University's Board of Trustees, were Amanda Bayley and Tapan Patel.
Bayley, the daughter of Blake and Renee Bayley of Wilmington, received an honors degree of distinction in biological sciences with minors in biochemistry, psychology and Spanish. She will attend the University of Pennsylvania dental school in August.
Patel, the son of Pinakin and Jayshree Patel of Newark, received an honors degree of distinction in biochemistry and math with minors in computer science and philosophy. Patel will attend University of Pennsylvania in a combined M.D./Ph.D. program in neurology.
Photo by Kathy Atkinson