Returning mom finds focus second time around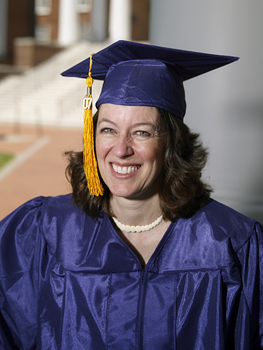 4 p.m., May 26, 2007--Although all-night study sessions and midnight pizza runs are part of the college experience for most, UD senior Rebecca Boyer-Andersen forfeited them for family time and household chores.
As with all compromises, however, the balance was evened by intense focus, and Boyer-Andersen, a medical technology major from Wilmington who carries a 3.991 grade point average, said she rarely longed for the all-nighters she'd pulled during her first time as a college student decades before.
"Midnight is about the limit for me," Boyer-Andersen, who typically hauls a 66-plus hour academic week, said. "Whenever I find myself reading a sentence twice, I know it's time to stop for the night."
This same wisdom that has helped Boyer-Andersen manage her days in classes and labs, also, she said, came in handy during her years as a homemaker, raising her three children, the youngest of whom is now in high school.
Choosing to devote her energies to full-time motherhood, Boyer-Andersen kept her focus on home-schooling and homemaking until two years ago when she began investigating options at UD. "As my youngest entered high school, I began to think about what I was going to do when my children left home," she said.
After picking up several prerequisite courses that sparked her interest in science, Boyer-Andersen entered UD's medical technology program as a junior and will start a full-time job in the microbiology department of St. Francis Hospital in Wilmington upon graduation.
"[In the program] we do clinical rotations, and I really enjoy the work," Boyer-Andersen said. In her new position, she will work mainly with blood, typing it and doing workups and tests ordered by doctors. She also will have the added job bonus of working with mothers and newborns on a regular basis, she said.
A native of Harristown, Md., Boyer-Andersen, who received her first bachelor's degree in psychology from Duke University, said that she initially planned to pursue a career as a school psychologist and in fact did so directly after graduation, before entering a graduate program in writing at the University of Kentucky in Lexington, where she met her husband.
After living for many years in Massachusetts, where she worked for a short time editing medical copy and starting a family, she and her husband eventually relocated to Delaware for a job at DuPont.
Though limited, Boyer-Andersen's spare time includes gardening, playing classical piano and helping in her church. And, of course, being a mom and wife.
"My family has been really supportive," Boyer-Andersen said. "There are many adjustments you need to make at the beginning to get into the rhythm of returning to college, and my family and friends have been very enthusiastic about my choices."
Article by Becca Hutchinson
Photo by Kathy Atkinson