Senior class raises $62,000 gift for UD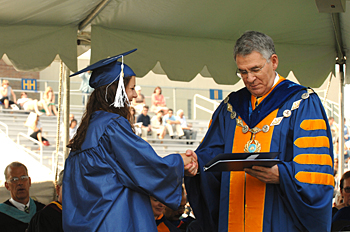 4 p.m., May 26, 2007--At the University of Delaware's 158th Commencement May 26, representatives of the senior class announced that they have collected $62,000 to establish the Class of 2007 Recycling Fund to support and enhance current recycling efforts on campus.
The Class of 2007 exceeded its original goal of $50,000 by 24 percent. To date, the senior class has received commitments from more than 1,650 students, parents and friends.
"This is, by far, the most money raised by a graduating class," UD President David P. Roselle announced, noting that the senior class gift has become a tradition as a way to raise awareness of the importance of giving back to the University and in providing an opportunity for each class to leave behind a legacy. The previous record gift had been $56,500, from the Class of 2006.
Amanda Conforto, chairperson of the senior class gift committee, presented Roselle with the gift on behalf of the Class of 2007.
Photo by Kathy Atkinson