Latino/Latina Students of Distinction honored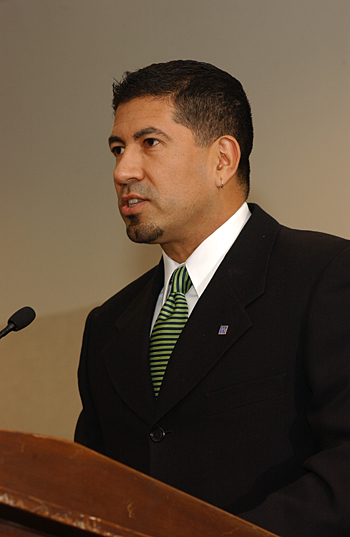 Click here
to view slide show
4:37 p.m., May 8, 2007--The academic achievements of students of Latino and Latina students were recognized at an event on May 5 in John M. Clayton Hall.
Those who attended the Latino/Latina Students of Distinction reception were among the 266 undergraduates of Hispanic heritage recognized for their academic achievements during the 2006-07 academic year.
In welcoming students, parents, guests and members of the campus community to the ceremony, UD President David P. Roselle urged students to take advantage of the many research opportunities available at UD.
"There are some things that are trademarks of a UD undergraduate education, and one of these things is that our senior faculty teach undergraduate students, including freshmen," Roselle said. "I urge you to take advantage of every single opportunity that is available to you here at UD. Don't stop. Keep growing. We are really delighted that you are here."
Wunyabari Maloba, assistant vice president for affirmative action and multicultural programs, introduced the event's keynote speaker, Jorge Cubillos, associate professor of foreign languages and literatures at UD. Cubillos congratulated the students on their academic performance and challenged them to become agents of change for academic participation and success in the Hispanic community.
"I would like to congratulate you, the Latino/Latina Students of Distinction for this impressive accomplishment. Attaining a high GPA in college is truly a major achievement," Cubillos said. "It speaks of your great personal discipline, your remarkable dedication to your goals, and, of course, it is a great testimony to your natural talent."
Cubillos urged students to make a difference and become agents of change for increasing the percentage of students of Hispanic heritage who enter and succeed in the field of higher education.
"While the kind of change that can be brought about by political activism is certainly important and necessary, I would like to propose to you this afternoon an alternate route for becoming an agent of change," Cubillos said. "The alternate path can actually begin right here and now by making three simple commitments."
The commitments recommended by Cubillos include staying the course on academic success, reaching out to others and embracing the Hispanic cultural heritage.
"By remaining on the path to academic success, students of Hispanic heritage serve to demonstrate that Hispanics have the talent and discipline to achieve academic excellence and to suppress negative stereotypes about the Hispanic community," Cubillos said. "By strengthening our group connections and strengthening our central community, you are developing a support network that will be crucial for us down the road, especially when we get discouraged or run into difficulty."
Below is a list of the Latino/Latina Students of Distinction honored at Saturday's reception.
COLLEGE OF AGRICULTURE AND NATURAL RESOURCES
Deena Lopez, Animal Science
Tanya Mejia, Animal Science
Monique Rivera, Entomology
Maritza Rodriguez, Animal Science
Maia Tatinclaux, Natural Resource Management
Daniel Vassallo, Engineering Technology
COLLEGE OF ARTS AND SCIENCES

Jessica Abbruzzese, Foreign Languages and Literatures
Nadia Abdelkhalek, Psychology/Criminal Justice
Franklin Andujar, Sociology
Steven Anton, Physics
Kristen Araujo, Art History
Esmeralda Ayllon, Spanish Education
Maria Ayllon, Spanish Education
Jody Baker, Psychology
Elizabeth Barriga, International Relations
Jill Beitz, Biological Sciences
Gina Bertuglia, Psychology/Foreign Languages and Literatures
Tessa Blumenberg, Art History
Andrea Bombino, Communication
Caroline Bomfirm, International Relations
Kelly Booz, English/Philosophy
Jacqueline Bracco, Psychology
Marissa Brescia, Political Science
Jennifer Brito, Anthropology
Joaquin Cabrera, International Relations
Christopher Cangelosi, Biological Sciences
Francesca Carregal, Biological Sciences
David Carter, English/Foreign Languages
Melody Casagrande, Mathematics and Economics
Arturo Castro, Biological Sciences/Criminal Justice
Liliana Chavarriaga, International Relations
Sylvia Cintora, French Education
Andrea Cisneros, English Education
Evan Colon, Criminal Justice/History
Solimar Colon, Communication
Donald Duffy III, Foreign Languages and Literatures
Maria DuPrez, Theatre Production
Juan Duque, Criminal Justice
Christopher Duran, Communication Interest
Anndria Escobar, Sociology
Andrew Farach, Biological Sciences
Catherine Feeley, Latin American Studies
Yarimar Figueroa, Biological Sciences
Carla Floyd, English
Jessica Galeas, Psychology
Chloe Gallo, Communication
Debbie Ann Gallo, Foreign Languages and Literatures
Bianca Garcia, Art Conservation
Rachel Garcia, English
Ray Garcia, Computer Science
Leah Geier, Music Education
Rachel Gerlach, Art History
Joelle Getrajdman, English
Thomas Gil, English Education
Grant Gillaspy, Biochemistry
Katherine Gonzales, Sociology
Melissa Gonzalez, Psychology
Fadi Greene, Psychology
Daniel Heiney-Gonzalez, Psychology
Christina Hernandez, English
Christina Infiesta, Spanish Education
Lauryn Isaacs, International Relations
Patrick Kellerman, Criminal Justice
Khatlen Kerrane, Spanish Education
Lindsey King, Visual Communication Interest
Michal Kusnetz, Music
Andrew Larason, Theatre Production
Luna Lazarte, Art Conservation
Brian Lazere, History Education
Isaac Levinsky, Psychology
Sonrisa Lewis, Criminal Justice
Katelyn Licata, Music Education
Laura Lopez, Political Science
Rock Lopez, Criminal Justice
Tyson Loverro, Political Science
Cristina Luna, English
Edward Madigan Jr., Criminal Justice
Gena Maldonado, Art History
Mark Mangual, Sociology
Kaitlind Marquez, Sociology
Jissell Martinez, International Relations
Holly McDonald, Political Science
Amy McGovern, International Relations
Eamon McLaughlin, Biological Sciences
Maria McLaughlin, Biological Sciences
Lorraine Medina, English
Nastasha Melo, Fine Arts
Armand Mendelsohn, Criminal Justice
Erica Mongelli, Sociology
Morgan Morelli, Biochemistry
Sabrina Mosquera, Women's Studies
Judith Munoz, Sociology
Todd Munoz, Physics Education
Danielle Nieves, Communication
Yasmine Noorali, Biological Sciences
Chloe Obando, Foreign Languages and Literatures
Lauren Ojeda, Spanish/Political Science
Danielle Pacheco, Visual Communication Interest
Lorimar Pena, Foreign Languages
Dolores Peralta, Art History
Jaclyn Pilette, Foreign Languages and Literatures
Esteban Pilonieta, Fine Arts
Jessica Pina, Biological Sciences
Carlos Planchart, Psychology
Jessica Rey, Political Science
Carolina Ribas, International Relations
Ashley Rizzo, Spanish Education
Anna Rocha, Psychology
Claudia Ana Rodriguez, International Relations
Lauren Rodriguez, Biological Sciences
Felix Romero, Psychology
Katelyn Ruiz, Political Science
Soleil Sabalja, Foreign Languages and Literatures
Gabrielle Sabatino, Foreign Languages and Literatures
Lariza Salem, English
Sarah Sammons, Psychology
Mirta Sanchez, Criminal Justice
Felipe Schiffino, Psychology
Lauren Shanks, Psychology
Heather Silva, English Education
Jacqueline Spitzbarth, History
Gina Suarez, Criminal Justice
Gabrielle Taska, Geography
Kathryn Teixeira, Biological Sciences
Andres Torres, Communication
Jessica Torres, Psychology
Maria Trigo, Art Conservation
Laura Tufts, Foreign Languages and Literatures
Melissa Urena, History
Marissa Valle, Communication Interest
Jessie Vega, Biological Sciences
Ana Milena Velasquez, Political Science
Angela Lee Velez, Music Education-General/Choir
Angela Nichole Velez, Spanish/Political Science
Maria D. S. Vernetti, Psychology
Elizabeth Whalen, Communication Interest
Mattie Wilson, Psychology
Nicole Yuzuk, Biological Science
Mirian Zambrana, International Relations
ALFRED LERNER COLLEGE OF BUSINESS AND ECONOMICS
Brian Alexitch, Marketing
Marisa Alvelo, Marketing
Angela Anacay, Accounting
Victor Andrade, Jr., Management
Nathalie Antonov, Marketing
Janine Cardenas, Finance
Erika Cartegena, Finance
Diane Cerqueira, Finance
Ana Ciappi, Finance
Kristen D'Amore, Operations Management
Jacqueline Dapolito, Marketing
Karli Deakin, Management
Ian Del Villar, Management Information Systems
James Diker, Accounting
Guillermo Febres, Finance
Claudia Flores, Accounting
Michael Gonzalez, Economics
Andrew Hausman, Economics
Kirsten Holst, Business Administration
Matthew Hutchison, Accounting
Celeste McCain, Finance
Jennifer Pakidis, Management/Marketing
Lydia Pavelock, Marketing
Michael Perez, Management
Vincent Raynor, Finance
Kevin Shalley, Finance
Anthony Sierra, Marketing
Kathleen Simon, Marketing
April Stevenson, Accounting
Philip Valle, Finance
Eric Vernacchio, Finance
Steven Vernacchio, Accounting
Jessica Zapata, Marketing
Jasmin Zirino, Business Administration
COLLEGE OF ENGINEERING
Christopher Brito, Computer Engineering
Cristina Ciappi, Computer Engineering
Jason Hernandez, Electrical Engineering
Luis Jimenez, Mechanical Engineering
Kyle Niblo, Chemical Engineering
Camila Perez, Electrical Engineering
Eileen Perez, Civil Engineering
Melissa Quinones, Civil Engineering
Samuel Rivera, Electrical Engineering
Matthew Rodriguez, Computer Engineering
Justin Seeney, Civil Engineering
Donato Settanni, Civil Engineering
Uriah Stock, Electrical Engineering
James Tejada, Mechanical Engineering
COLLEGE OF HEALTH SCIENCES
Emmanuel Antonio, Nursing
Marco Bedolla-Pantoja, Medical Technology Interest
Melinda Borges, Nursing
Claudia Cannon, Nursing
Maria DiMarzio, Nursing
Christine Garcia, Nursing
Amanda Gibson, Nursing
Laura Gomez, Nursing
Erica Kunkel, Nursing
Monica Lourenco, Nursing
Richard Lozano, Dietetics
Nicole Marshall, Nursing
Emilio Perry, Health and Physical Education
Stephanie Quiros, Exercise Science
Jorge Reyes, Health and Physical Education Interest
Kendall Reyes, Health Behavior Management
Sarah Rodriguez, Nursing
Kyle Rosner, Exercise Science Interest
Brittany Stammer, Nursing
Cristina Valcarcel, Health and Physical Education
Monica Weiden, Nursing
Andrea Yuzuk, Exercise Science
Danielle Zambardino, Nursing
COLLEGE OF HUMAN SERVICES, EDUCATION AND PUBLIC POLICY
Danielle Abou-Samra, Elementary Teacher Education
Brittany Ballester, Hotel, Restaurant and Institut. Management
Katherine Brun, Elementary Teacher Education
Kristin Casella, Fashion Merchandising
Katherine Castano, Elementary Teacher Education
Jenna Cavadas-Fonseca, Elementary Teacher Education
Danielle Cusanelli, Hotel, Restaurant and Instutional Management
Marisa Dohn, Elementary Teacher Education
Beatriz FaBrega, Apparel Design
Carlyn Gonzalez, Elementary Teacher Education
Elizabeth Guevara, Elementary Teacher Education
Kristin Gulmi, Elementary Teacher Education
Laura Henriquez, Hotel, Restaurant and Institutional Management
Mallory Jowett, Hotel, Restaurant and Institutional Management
Jaclyn LaPlaca, Elementary Teacher Education
Mallory Littleton, Hotel, Restaurant and Institutional Management
Amanda Lopez, Fashion Merchandising
Nicole Lozyniak, Elementary Teacher Education
Tiffany Melendez, Elementary Teacher Education
Ashlee Miller, Elementary Teacher Education
Alicia Miranda-Browne, Hotel, Restaurant and Institutional Management
Natalia Moena, Apparel Design
Katye Murphy, Early Childhood Development and Education
Stefanie Ortiz, Elementary Teacher Education
Candace Perez, Fashion Merchandising
Ana Perry, Elementary Teacher Education
Maria Pizano, Early Childhood Development and Education
Jessica Ralston, Fashion Merchandising
Jaclyn Ramirez, Elementary Teacher Education
Raquel Rinn, Leadership and Consumer Economics
Amara Rivera, Hotel, Restaurant and Institutional Management
Julie Ann Rivera, Hotel, Restaurant and Institutional Management
Amanda Rodriguez, Elementary Teacher Education
Erica Rojas, Family and Community Services
Rachel Rosado, Elementary Teacher Education
Sheileann Rosario-Rivera, Hotel, Restaurant and Institutional Management
Alexandra Sandoval, Fashion Merchandising
Emily Silpe, Hotel, Restaurant and Institutional Management
Katrina Swales, Elementary Teacher Education
Thomas Tennant, II, Hotel, Restaurant and Institutional Management
Natalie Villoslada, Early Childhood Development and Education
Jennifer Weisbecker, Elementary Teacher Education
Nicole Wright, Fashion Merchandising
Jessica Zylberberg, Fasion Merchandising
UNIVERSITY STUDIES
Elizabeth Alcayaga, University Studies
Brian Boyle, University Studies
Brianne Castro, University Studies
Alejandro Delgado, University Studies
Faith Dunn, University Studies
Denise Echevarria, University Studies
Andrew Fernandez, University Studies
Renee Koerner, University Studies
Nicole Medina, University Studies
Jocelyn Vargas, University Studies
Article by Jerry Rhodes
Photos by Duane Perry