Southern Delaware Convocation held at Rehoboth Beach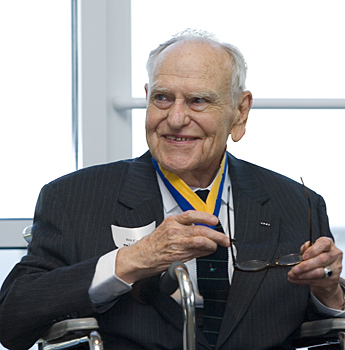 4 p.m., May 26, 2007--William A. Carter, considered the "founding father" of the community college system in Delaware, was awarded UD's Medal of Distinction at the University's Southern Delaware Convocation ceremony, Thursday evening, May 24, at the Rehoboth Beach Country Club. UD President David P. Roselle welcomed the 250 graduates and their guests from the College of Arts and Sciences, the College of Human Services, Education and Public Policy (CHEP) and students earning Associate in Arts degrees.
"I am delighted to be here for the seventh year of a proud UD tradition--the Southern Delaware Convocation, which gives us an opportunity to especially recognize and celebrate those of you who have concentrated your academic endeavors in southern Delaware," Roselle said.
After congratulating students on their accomplishments, Jacquelyn Owens Wilson, a member of the UD Board of Trustees, introduced Carter, the force behind the founding of Delaware Technical and Community College (DelTech) to present him with the Medal of Distinction.
The Medal of Distinction is presented to individuals within the state and region who have made humanitarian, cultural, intellectual or scientific contributions to society, have achieved noteworthy success in their professions or have given significant service to the University, state and region.
"I would like to share a few personal thoughts and reflections prior to presenting Bill Carter with this award. I do so for selfish reasons---I want the young adults in this room, who will be graduating this evening, to understand the importance and impact of service to one's state and community," Wilson said.
She went on to give an overview of Carter's early years including a degree from St. John's College in Annapolis, his service in the U.S. Navy, career as an executive with the Northwestern Insurance Co. and role as husband and father of three.
"For most people, this would be a life that one could be proud of--a good education, serving one's country, a wonderful wife, raising three children and a successful business. But, Bill Carter was not satisfied with just personal success. He knew what it takes many of us years to learn--that our life is best fulfilled by providing service to our community," she said.
That service, Wilson said, came in the form of deep involvement in the economic development of Sussex County, where Carter makes his home. She said his passion for improving the quality of life for the residents of the state was well-known among legislators and business and school leaders, and that he was the kind of person who took hold of an idea and didn't let go until he made it a reality.
"It was Bill Carter who fearlessly lobbied the governor and legislators..., as a result, in 1966 the Delaware General Assembly created Delaware Technical and Community College," Wilson said. As a member of DelTech's board of trustees, Carter and E. Hall Downes recruited and hired two top community college administrators who led the way to the success of the southern campus in Georgetown, she said.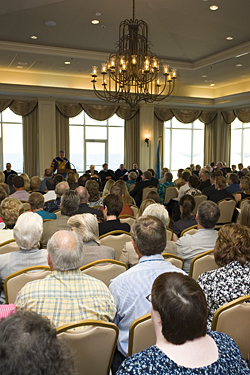 Carter served on the board for more than 13 years, helping shape DelTech, which has grown today to include campuses in Georgetown, Dover, Stanton and Wilmington. The William A. Carter Higher Education Partnership Center in Georgetown is named in his honor.
"This evening we celebrate the graduation of students with associates, bachelors, masters and doctoral degrees who made the decision to attend school 'close to work and home.' It is most fitting to present this award on behalf of the UD Board of Trustees to William A. Carter who helped make dreams come true for the citizens of Delaware," Wilson said.
After awarding the medal, Roselle asked the parents, spouses, brothers, sisters, grandmothers, grandfathers, aunts, uncles and significant others who have aided the graduates financially and otherwise to stand and be applauded by the graduates. After congratulating graduates on their achievements, Roselle began the final phase of the ceremony--the handing out of degrees.
Students earning associate's degrees, walked to the podium to collect their diplomas and receive individual recognition from Roselle and John Courtright, director of Undergraduate Studies.
Thomas Apple, dean of the College of Arts and Sciences, paid tribute to students receiving degrees in the arts and sciences and Timothy Barnekov, dean of the College of Human Services, Education and Public Policy, recognized the accomplishments of students receiving degrees from his college.
A reception for Carter and the graduates followed the ceremony.
Article by Barbara Garrison
Photos by Kevin Quinlan