Special resolutions honor service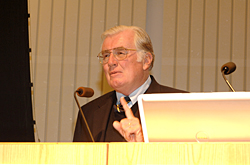 5:07 p.m., May 24, 2007--The University of Delaware Board of Trustees passed three special resolutions in recognition of service to the institution at its semiannual meeting May 23.
One resolution honored outgoing trustee Charles M. Cawley and two recognized University President David P. Roselle and his wife, Louise.
Cawley, who has served on the board since 1994, was recognized for his contributions to the board, for his "sincere and thoughtful counsel to the president of the University and the Board of Trustees," for encouraging corporate support and for his own personal gifts in support of a wide range of projects.
Addressing the board, Cawley said, "As I was walking over
here, thinking that Julie [Mrs. Cawley] and I have sent 17 or 18 kids to the school this year, and I got to thinking what a fabulous piece of ground this is--in every way. Whether it's the admissions report or when you hear about the accomplishments of the students and the faculty, you realize what an incredible place this is."
He paid special tribute to Roselle and said, " I challenge you to try to think of a better leader than Dave Roselle. I'm very, very proud to have had my name in a small way associated with the University of which you have been president."
Provost Dan Rich made a special recognition of Roselle when he announced that he will be given the title of professor emeritus of mathematical sciences, when he steps down at the end of June, upon the recommendation of the faculty of the Department of Mathematical Sciences.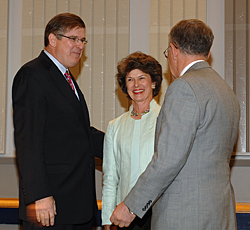 "The high regard in which David Roselle is held by his colleagues in mathematical sciences is indicative of the views of the faculty across the campus," Rich said, noting that in 2005 the Faculty Senate unanimously passed a resolution commending Roselle for his impact on UD.
In addition, the trustees approved a resolution conferring on him the title of president emeritus.
The trustees also approved a resolution that the University's new Center for the Arts be named the Louise and David Roselle Center for the Arts, to acknowledge "with deep gratitude and heartfelt thanks" their role in "enhancing all aspects of life at the University of Delaware and having done so with a keen sense of the University's rich past and an unwavering optimism about the future."
Louise Roselle, in her acceptance remarks, said that she had that afternoon encountered a student who was in tears and was later told that they were tears of joy, mixed with tears of sadness because the student's time at the University of Delaware had come to an end. Louise Roselle said that she shared those emotions-tears of joy about the honor and her time at the University, mixed with tears of sadness about the prospect of leaving the University. David Roselle also thanked those present for the honor.
Article by Becca Hutchinson
Photos by Kathy Atkinson