UD biology students shine at national conference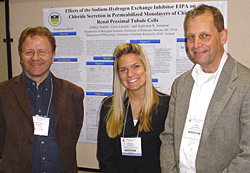 5:43 p.m., May 23, 2007--Thanks to the efforts of 15 students, UD once again received the most awards at the 2007 Experimental Biology Meeting in Washington, D.C., April 28-May 2. UD students competed in poster sessions against 115 students from colleges across the country, winning the most awards for the seventh year in a row.
Seniors Allen Tseng and Lindsay Higdon won honorable mention honors for their poster presentations in molecular biology, and seniors Evan Lebois and Ashley Anttila were selected to give symposium talks. The confab drew more than 12,000 scientists to the Washington Convention Center.
Hal White, director of UD's Howard Hughes Medical Institute Undergraduate Science Education Program, which provided travel funds for the participating students, said each student was independently interviewed by at least two judges. "We were delighted that Lindsay Higdon and Allen Tseng received honorable mention awards in molecular biology and thus continued UD's distinction of cumulatively receiving more awards in this competition than any other school over the seven years we have participated," White said.
White said just being selected to give a symposium talk is a notable achievement for Lebois and Anttila, as well. "I heard both presentations and was so impressed with their poise and ability to answer questions," he said. "Because undergraduates rarely give symposium talks, many members of the audience assumed they were postdocs. As a result, Evan and Ashley enjoyed being addressed as Dr. Lebois and Dr. Anttila for a day."
At the conference, White said the UD students also attended lectures by famous scientists, met other researchers in their areas of interest, visited the exhibits and met several former UD undergraduate researchers at an alumni dinner.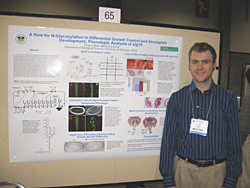 Article by Julia Parmley, AS '07