UDaily is produced by the Office of Public Relations
The Academy Building,
105 East Main St.
Newark, DE 19716-2701
(302) 831-2791

Early American culture prof explores why pets matter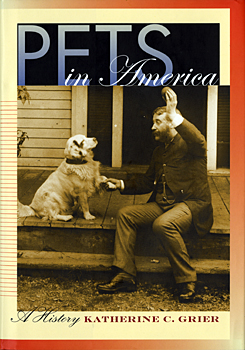 Reproduced with permission of the University of North Carolina Press.
5:33 p.m., March 20, 2007--In an age when pets routinely make news, attain celebrity status and chew sizeable holes in the budgets of more than 60 percent of U.S. households, the premium many Americans place on their relationships with their animals hardly seems noteworthy. Yet like all customs that stick, pet ownership is a trend that nonetheless has a history, a culture and an important role in shaping a society; and in her recently published book, Pets in America, Katherine (Kasey) C. Grier, UD professor of material culture studies in the Winterthur Program, pays serious attention to both the history of pet ownership and the paraphernalia it inspired.
Written from an historian's perspective, Grier's 378-page book, published last fall by the University of North Carolina Press, traces the phenomenon of pet ownership and its growing influence on households, marketing and animal welfare trends in America between 1840 and 1940. Yet, far from being a compendium of facts and statistics, Pets in America chronicles the long-held practice with diary entries, photographs, letters, advertisements and images of pet-related objects.
"The things that I write about are the things that have some sort of resonance with my family history or my personal history," Grier said, explaining the book's origins. "And one of the things that interested me was learning where people like my family came from, because they're pet-keepers, and they've been pet-keepers for multiple generations."
Another inspiration for the book, Grier said, was a series of conversations she had with George Basalla, UD professor emeritus of history, about a book they both read called Dominance and Affection by cultural geographer Yi-Fu Tuan.
"That's what really got me going," she said.
After poring over hundreds of photographs, documents, ads and images, Grier next settled on an angle--the material culture of pets and pet ownership--because it dovetailed with her established interests in material culture and history.
"I'm an historian," Grier said, "but I also have a background in material culture studies and have worked at museums, so whenever I tackle a project, I don't look for objects and images that illustrate my points. I look for other kinds of documents. Right from the beginning, I ask, 'What's out there that reflects this everyday practice and will give me some information that I couldn't get elsewhere?' When writing this book, I looked for objects related to pet-keeping, because there's this array of toys, carriers, dishes, collars and other paraphernalia that says something about the culture of keeping animals as pets, and about pet owners. I wanted to learn how far back those objects went in the historical record and how they influenced attitudes and behavior. Material culture is one of the ways you can learn about society."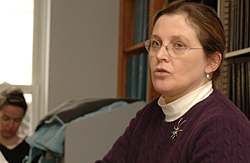 Katherine Grier

Although the focus of her book remains primarily in this vein, Grier touches on the human-animal interaction, as well, and shows how it is clearly important, and cuts across every demographic.

"People define pet-keeping in different ways and do it for different reasons," she said, "but the term 'pet' is used to describe all these reasons.

"Some people have pet animals as status symbols, some keep pets as companions,and some--such as many owners of tropical fish--keep pets because they like the challenge of creating an environment where the animals can thrive. But what all pet-keepers have in common is that they've selected animals that don't have to work for a living for special attention and care, and they've put themselves in the position of being their stewards throughout the course of their lives. Pet ownership has to do with humans choosing animals, and choosing to be their stewards, and doing this not for utilitarian reasons."

In addition to Pets in America, which is available online at Amazon.com and at local bookstores, Grier also curated the traveling exhibition, "Pets in America: The Story of Our Lives with Animals at Home," a collection of more than 275 pet-related objects, images and photographs that will be on display at Winterthur Country Estate and Gardens in November.

Before joining UD's faculty in September 2005, Grier held professorships in history at the University of Utah and the University of South Carolina and worked as an historian at the Strong Museum in Rochester.

She earned her bachelor's degree in history from Princeton University in 1975, her master's degree in museum studies from the Cooperstown Graduate Program in Cooperstown, N.Y., in 1980, and her doctorate in history from the University of Delaware in 1988.

The author of Culture and Comfort: Parlor Making and Middle-Class Identity, 1850-1930 (Smithsonian Institution Press, 1997), as well as several articles and papers on material culture in the United States, Grier also is a longtime pet-owner, and currently the steward of a menagerie of rescue animals that includes two dogs, two cats, a horse and a tortoise.

Article by Becca Hutchinson
Photos by Kathy Atkinson
E-mail this article
Subscribe to UDaily
Subscribe to crime alert e-mail notification