UDaily is produced by the Office of Public Relations
150 South College Ave.
Newark, DE 19716-2701
(302) 831-2791

UD Land & Sea lectures set in Lewes, Milford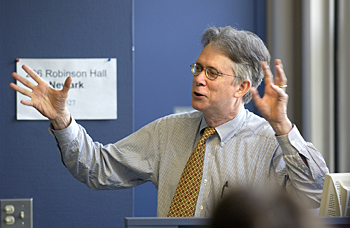 Willett Kempton, associate professor in UD's College of Marine and Earth Studies

1:26 p.m., March 5, 2007--Alternative energy sources, climate change and the conflict in Iraq will be discussed by University of Delaware faculty during the 22nd annual Land & Sea Lecture Series to be held on Fridays throughout March in Lewes and Milford.

The free series is sponsored by UD's Office of Alumni and University Relations. Sessions will meet at 10 a.m. at the Virden Center on UD's Hugh R. Sharp Campus at 700 Pilottown Road in Lewes and at 1:30 p.m. in the public meeting room of the Milford Public Library at 11 S.E. Front Street.

The series will open on Friday, March 9, with Willett Kempton, associate professor in the College of Marine and Earth Studies, discussing alternative energy sources in two distinct lectures. He will discuss "Electric Cars and Vehicle to Grid Power" in the morning lecture at Lewes and "Offshore Wind Power in the Middle Atlantic" in the afternoon lecture at Milford.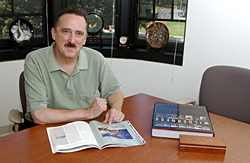 John Byrne, Distinguished Professor of Public Policy and director of UD's Center for Energy and Environmental Policy
In Lewes, Kempton will address the vehicle-to-grid, or V2G, concept in which energy flows back from electric automobiles to the power grid. With ongoing advances in high-energy storage batteries, electric automobiles are becoming increasingly practical and Kempton said cars have substantial benefits in national security, environmental improvement, and considerably lower operating cost. The V2G concept was created at UD and Kempton said researchers are now working with electric utilities and automobile designers to develop and test the V2G concept and prototype automobiles that use it.
In Milford, Kempton will discuss recent studies of wind power. He said Delaware has very large wind resources over the Atlantic Ocean and Delaware Bay and the technology to convert offshore wind to electricity has become more practical and cost-effective than ever before. He will review the technology, resource assessment and utilization of wind-generated electricity, as well as environmental impacts. UD researchers, including Kempton, have refined and developed methods for assessing the amount of offshore wind power available based on current and prototyped wind technology. Along the East Coast, they have found the practical wind resource is more than four times the average electrical needs of the region. The talk will conclude by looking at the environmental and economic development implications of exploiting this potential.
David Legates, associate professor of geography

Lectures the next two Fridays, March 16 and March 23, will feature discussions on climate change. On March 16, John Byrne, Distinguished Professor of Public Policy and director of UD's Center for Energy and Environmental Policy, will speak on the topic "New Policy for New Weather." Byrne will review the finding in the latest report of the United Nations sponsored Intergovernmental Panel on Climate Change (IPCC), which confirms human-induced climate change is underway, and consider the policy challenge confronting world leaders. Because nearly three-quarters of greenhouse gases triggering human-induced climate change derive from the combustion of fossil fuels, Byrne's talk will focus primarily on energy options and international, national and state policy strategies.

On March 23, David R. Legates, associate professor of geography, will discuss "Current Trends in Global Warming." Also referencing the IPCC, Legates will discuss how global warming has returned to the forefront of the political arena. He will consider scientific consensus, and also views from the extremes, on the one side skeptics who believe that the climate is not changing and that humans have little impact on the climate and on the other alarmists who believe that humans are contributing to a climate catastrophe.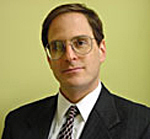 Stuart Kaufman, professor of political science and international relations

The lecture series will conclude on Friday, March 30, with a presentation by Stuart J. Kaufman, professor of political science and international relations, on "The Conflict in Iraq: Another Vietnam, Bosnia or Somalia?" The controversy over whether to call the conflict in Iraq a "civil war" is not just quibbling about words, Kaufman said, but raises an important question about what previous experiences and lessons the nation should turn to in trying to understand what is going on and what needs to be done next. Kaufman said some experts think the main enemy is an "insurgency," like the one we faced in Vietnam, while others see an "ethnic conflict" such as that in Bosnia and still others emphasize the Islamic context and clan-based society in Iraq and see parallels with Somalia. He will discuss lessons that can be learned from those experiences that might help point a way forward in Iraq.

For information, contact the University's southern Delaware offices at (302) 855-1620 or (302) 735-8200.

Photos by Kevin Quinlan and Kathy Atkinson
E-mail this article
Subscribe to UDaily