UDaily is produced by the Office of Public Relations
The Academy Building,
105 East Main St.
Newark, DE 19716-2701
(302) 831-2791

Patagonia rep to discuss environmental issues March 12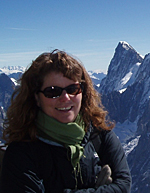 Jill Dumain
11:59 a.m., March 8, 2007--Jill Dumain, director of environmental analysis for Patagonia, a sport clothing company, will discuss how the company is addressing current environmental issues at 7 p.m., Monday, March 12, in Clayton Hall.
The free public talk is part of the Fashioning Social Responsibility lecture series hosted by UD's Department of Fashion and Apparel Studies and supported by the Lerner College of Business and Economics.
The series concludes at 7 p.m., Monday, April 9, in Clayton Hall, with Harriett Hentges, senior director of stakeholder engagement for Wal-Mart, who will address company efforts related to organic cotton, jewelry and ethical sourcing.
For more information, call (302) 831-8714, e-mail [dickson@udel.edu] or visit [www.udel.edu/fash].
E-mail this article
Subscribe to UDaily