Fuel cell research duo wins $4.6 million DOE grant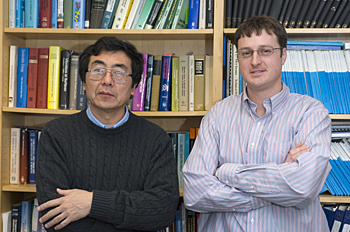 Jingguang Chen (left), professor of chemical engineering and director of UD's Center for Catalytic Science and Technology, and Brian Willis, assistant professor of chemical engineering, are working in conjunction with major research labs across the country to improve hydrogen fuel cell technology.
2:33 p.m., March 6, 2007--Two University of Delaware professors are part of a research team that has been awarded a $4.6 million research grant by the U.S. Department of Energy to find ways in which hydrogen fuel cells can be made less costly and more stable by using materials such as tungsten carbide modified with low concentrations of platinum instead of pure platinum.
Jingguang Chen, professor of chemical engineering and director of the Center for Catalytic Science and Technology, and Brian Willis, assistant professor of chemical engineering, will be working in conjunction with Pacific Northwest National Laboratory (PNNL), Oak Ridge National Laboratory (ORNL) and Ballard Power Systems, a fuel cell manufacturer.
Currently hydrogen fuel cells use pure platinum as the cathode electrocatalyst, which is costly due to limited supply and is unstable because it gradually loses activity by making larger particles. The UD research team aims to find less expensive and more stable alternatives to replace pure platinum catalysts. The proposed research was based primarily on promising results from a decade of UD research on the activity and stability of tungsten carbide and the use of platinum with tungsten carbide as an electrocatalyst.
"Tungsten, which is more abundant than platinum, is used to make tungsten carbides, which can potentially be very stable. We have been doing research in this area for about 10 years and tungsten carbides are probably the only feasible alternative material," Chen said. "The Department of Energy needs to reduce the cost and enhance the stability of fuel cells and our goal is to use a small amount of platinum and blend it with tungsten carbide to achieve that."
The UD team will work with PNNL and ORNL researchers on the development of larger scales of the catalytic materials and researchers from Ballard Power Systems will perform tests for the commercial feasibility of the new electrocatalysts.
Based on the promising preliminary results of platinum supported on tungsten carbides, the UD team will make model systems on thin films of about one centimeter-square, put them through an electrochemical fuel cell environment and then use spectroscopies to measure the electrochemical activity and stability of tungsten carbide and platinum after mimicking the operating conditions of fuel cells, Chen said.
"We will be studying the reaction chemistry and synthesis conditions for the tungsten carbide materials, and the chemical engineering aspects of the mechanisms in cathode catalysis," Willis said. "Once the right material has been identified, it will be given to the fuel cell manufacturer, Ballard Power Systems, for production on a larger scale. This is a partnership between industry, academia and national laboratories. The University is providing the fundamental research; it's the fruit of academic research that has been going on for years."
Chen said UD's advantage in applying for the grant was based on the results of years of research, which provided critical preliminary data that helped win the award. The earlier research was made possible by seed funding provided by Eric Kaler, Elizabeth Inez Kelley Professor of Chemical Engineering and dean of the College of Engineering, and Mark Barteau, Robert L. Pigford Professor of Chemical Engineering and chairperson of the Department of Chemical Engineering.
Chen said the research team is expected to provide a demonstration of a commercially feasible design in four years, in conjunction with the Department of Energy's strategy.
"The platinum hurdle is one of the primary technical challenges but one that would have the greatest impact on the cost," Chen said. "If successful, the technology can be applied to a variety of uses, including portable power supply and transportation. If hydrogen fuel cell technology takes off, it would offer a more efficient way to produce energy with a cleaner environment. That is one of the core objectives of the chemical engineering profession."
Chen received his doctoral degree from the University of Pittsburgh in 1988 and then spent one year in Germany as a Humboldt postdoctoral fellow. He started his career at the Exxon Research and Engineering Co. in Annandale, N.J., in 1989 and joined the UD faculty in 1998. Chen has published more than 150 articles in refereed journals and holds 16 U.S. patents.
Chen, whose current research focuses on alternative energy, including The production of hydrogen from alternative sources, such as biomass and solar energy, has served as chair of the Gordon Research Conference on Catalysis in 2002 and as chair of the Philadelphia Catalysis Club in 2004. He is on the board of directors of the North American Catalysis Society, and serves as the catalysis secretary-general of the American Chemical Society.
Willis received his doctoral degree from the Massachusetts Institute of Technology in 1999 and then spent three years as a research scientist in the Electronic Devices Laboratory at Bell Laboratories, Lucent Technologies, before joining the University of Delaware in 2002.
Willis, whose primary area of research and expertise is in the surface reaction engineering of electronic materials for nanotechnologies, including molecular electronics and atomic layer deposition of complex oxide materials, was awarded the National Science Foundation Career Award in 2003. He is active in the American Institute of Chemical Engineers and a member of the Materials Research Society.
Article by Martin Mbugua
Photo by Jon Cox
E-mail this article
Subscribe to UDaily
Subscribe to crime alert e-mail notification