Alum Leonard Stark named federal magistrate judge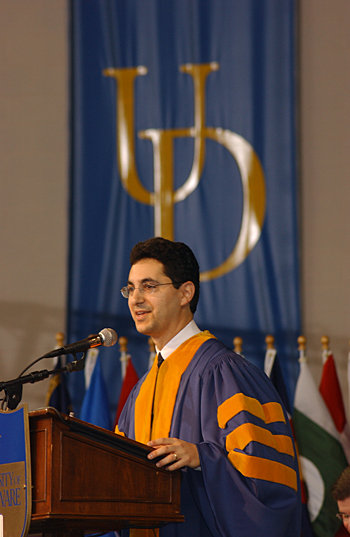 3:36 p.m., June 1, 2007--Leonard Stark, a 1991 graduate of the University of Delaware, has been selected to serve as U.S. magistrate judge in Delaware. Stark was picked from a field of candidates and recommended for the position by a court-appointed merit selection panel of 11 community leaders that included UD President David P. Roselle.
Magistrate judges are officers of a district court who conduct initial proceedings in felony cases, decide misdemeanor cases, conduct many pretrial civil and criminal matters and decide civil cases with the parties' consent. Full-time magistrate judges serve eight-year terms and can be reappointed by their district court.
Stark was one of four finalists interviewed for the position by the three federal district judges in Delaware. He will assume his new position after a background investigation by the FBI and the Internal Revenue Service.
In a letter thanking Roselle for serving on the merit selection panel, Chief Judge Sue L. Robinson wrote that Stark is "by any measure, a remarkable young man and we look forward to having him devote his considerable skills to the court's docket in the years to come."
Stark was appointed assistant U.S. attorney for the district of Delaware in 2002. His responsibilities include criminal and civil litigation, from investigative and grand jury phases through trial and appellate court proceedings. Prior to that appointment, Stark worked as an associate with Skadden Arps Slate Meagher & Flom in Wilmington.
Stark received a bachelor's degree with honors in political science, a bachelor's degree with distinction in economics with a minor in women's studies and a master's degree in European medieval and early modern history at UD.
Stark is an adjunct professor at the University, is the president of the Alumni Association Board of Directors and a member of scholarship committee. He also serves as secretary of the Delaware Rhodes Scholarship selection committee. In 2004, he was named a recipient of the UD Presidential Citation for Outstanding Achievement, an award that honors UD graduates of the last 20 years who exhibit great promise in their professional career and/or public service activities.
Stark, who became UD's eighth Rhodes Scholar, earned his doctorate at Oxford University in England and received his law degree from the Yale Law School in 1996.
He is the author of the book, Choosing a Leader: Party Leadership Contests in Britain from Macmillan to Blair, as well as several articles in law and academic journals.
Article by Martin Mbugua
Photo by Duane Perry