Globe-trotting grad wins Fulbright to teach in Brazil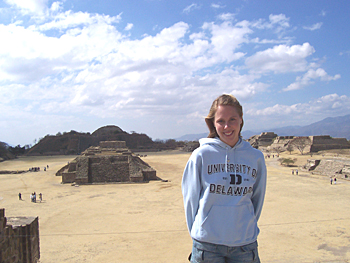 3:11 p.m., June 18, 2007--Recent UD graduate Emily Helmeid has studied Portuguese in Brazil, French in France and Spanish in Mexico, thanks to UD's "wonderful study abroad programs," she said. Now she is facing another challenge--she has been selected to be a Fulbright teaching assistant in Brazil from March to December 2008, where she will teach English and act as a cultural liaison, telling her students about life in the United States.
"I am thrilled," she said. "Upon receiving the call, the only word I could manage at first was 'Wow!' That still sums up my feelings."
Helmeid's first journey during Winter Session of her freshman year was to Brazil, where she studied Portuguese while living with a host family in the coastal city of Jočo Pessoa. "It was a beautiful city with a nature reserve, and I fell in love with Brazil," she said.
The experience opened her eyes to the many programs for study abroad at Delaware, she said, and she took full advantage of them while majoring in foreign languages and literatures, international relations and Latin American Studies. "I don't think any other school would have provided me with the opportunities Delaware has, and everyone has been supportive and encouraging," she said,
During her sophomore year, Helmeid spent a semester at the University of Caen, studying French, and the following summer with funding from UD's Alumni Association, she spent the summer in Brazil at a small language school.
During her junior year, she studied Spanish in Puebla Cholula in Mexico and spent a semester of her senior year in Paris.
Helmeid also is a volunteer both at home and abroad. She volunteered at a home for child cancer patients in Brazil and at a home for children of single mothers in Mexico. Last summer in Wisconsin, where she lives, she worked as a teacher's aide in a remedial reading class and was a volunteer social worker and translator for the Department of Social Services. She also served as a volunteer translator/interpreter in French, Spanish and Portuguese at the 2007 World Social Forum in Nairobi, Kenya.
All these experiences have given her knowledge and skills that she can use as during her stint as a teaching assistant in the Fulbright program, Helmeid said.
In the future, she said, she hopes to attend graduate school at the University of Sussex in England in their Poverty and Development Program.
"The Fulbright will allow me to study the education system in Brazil, and my different experiences--living abroad, studying and volunteering--all tie into my interests," she said.
Meantime, Helmeid is taking some time off to see the United States--camping and visiting every relative she has all over the country, she said. Then, she plans to get a job until it's time to head to Brazil once more in March, this time not as a student but as a teacher.
Article by Sue Moncure