Green wins $600,000 grant for biofuels research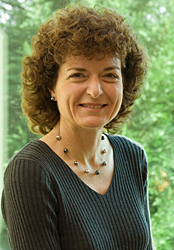 3:35 p.m., June 18, 2007--Pamela J. Green, the Crawford H. Greenewalt Endowed Chair in Plant Molecular Biology at the University of Delaware, has received a three-year, $600,000 grant for biofuels research through a joint initiative of the U.S. Department of Energy and the U.S. Department of Agriculture.
Eleven projects, totaling $8.3 million, were funded nationally.
In her lab at UD's Delaware Biotechnology Institute, Green will be working to identify small RNAs (short stretches of ribonucleic acid) related to stresses such as drought, temperature and nutrient deprivation and then correlate them to the emerging genetic code of Brachypodium distachyon, thus enhancing the plant's value as a functional genomic model for energy crops and temperate grasses.
"Brachypodium has many advantages for carrying out functional studies in the laboratory compared to energy crops like switchgrass and Miscanthus, and temperate grasses that are important sources of food like wheat," Green said. "Our long-term goal is to provide basic biological information that may help us increase the ability of these plants to cope with environmental stresses," she noted.
According to a news release issued by the federal agencies, this latest funding continues a commitment begun in 2006 to conduct fundamental research in biomass genomics that will lay the scientific foundation to facilitate and accelerate the use of woody plant tissue for bioenergy and biofuels. The awarded projects are part of a greater research portfolio to help meet the nation's goal to reduce gasoline consumption by 20 percent in 10 years.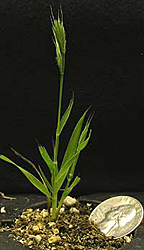 Green earned her bachelor's degree in biology with honors from Purdue University and her doctorate in biochemistry and molecular biology from the State University of New York at Stony Brook.
Earlier this year, Green was named a fellow of the American Association for the Advancement of Science (AAAS), the world's largest scientific society, for her pioneering research on post-transcriptional mechanisms that regulate the expression of genes in higher plants, especially the role of messenger RNA.
Article by Tracey Bryant