Prof uses Segway to crisscross campus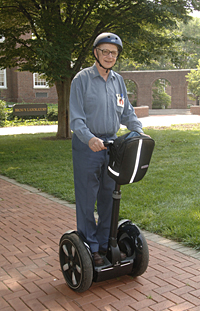 At 73, Burnaby Munson, UD's C. Eugene Bennett Chair of Chemistry, has taken to a new form of transport to get around town and the campus.

3:44 p.m., July 12, 2006--What possessed a self-described "old and cowardly" chemistry professor to buy a Segway at age 73?

"It was such fun," Burnaby Munson said of the two-wheeled, self-balancing, human transporter invented by technology whiz Dean Kamen.

It all started during spring break when Munson, UD's C. Eugene Bennett Chair of Chemistry, visited retired associate math professor John Bergman near Houston. While they sat enjoying lunch near a park, they watched people glide through the park on rented scooter-like Segways.

When Munson made a return visit to Bergman's three weeks ago, they made a return visit to the park. This time Munson took a ride.

"I was wary because I'm not very well-coordinated, and I'm old,'' Munson said, deeply accenting and stretching the "o-l-d."

"I was a little concerned that maybe I was going to fall, but it was such fun. There was me in a coat, but not a tie, I should have had a tie, and a yellow helmet. I was the funniest-looking thing on wheels," he said.

Munson said he took his maiden ride on a Thursday; on Friday, back in Delaware, he heard from Bergman. "John Bergman, who is in league with the devil, sent me an e-mail with the address of Segway of Delmarva,'' he chuckled.

Now, Munson said he's rarely the first to try anything. He quotes Alexander Pope on the subject: "Be not the first by whom the new are try'd, nor yet the last to lay the old aside."

Nonetheless, he climbed into his nine-year-old Dodge Neon ("I only need a car for transportation") and headed south.

The salesman walked the, er, walk with Munson--Segwaying in the showroom, on the sidewalk, the grass, the gravel, the parking lot, the road. Sold.

Munson, whose publications include The Use of Deuterium Oxide as a Mobile Phase for Structural Elucidation by HPLC/UV/ESI/MS, plunked down $5,000 for a human transporter.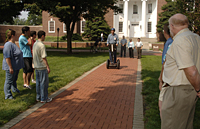 Munson, who just recently got his Segway up to its maximum of 12 mph, says, "It has created a nice amusement for so many other people."
"If I had stopped to think about it, I wouldn't have bought it,'' Munson admitted, but he looked glad he had when Msgr. Michael Szupper stopped by to ask for a demonstration.
Munson says he has two solid reasons for the purchase. First, he lives on Park Place about a mile from campus. Second, the way people react.
"It has created a nice amusement for so many other people,'' Munson said. He gets thumbs up and smiles and questions, he said.
Munson said he hasn't let anyone else ride the Segway yet because it's all still too new. He just recently got his Segway up to its maximum of 12 mph.
At first glance, the Segway looks like the answer to the town-and-gown parking crush, but Munson is still feeling his way. "I don't know what the etiquette is. I don't know how the merchants would feel. I rode it into [the] Trabant [University Center] once, and nobody kicked me out. "
Park on the sidewalk or at a meter? Go inside buildings or keep out? Munson admits he really doesn't know so he's been riding the Segway to the hot dog cart on Main Street, where he can eat his hot sausage sandwich without leaving his perch.
Insurance? Licensing? Too new to know, Munson said. He has found that there's no place to strap on a cooler of liquid nitrogen for his Delaware Discovery Days experiments, though.
Article by Kathy Canavan
Photos by Kathy F. Atkinson
E-mail this article
Subscribe to UDaily
Subscribe to crime alert e-mail notification