Sparks helps helm world soil science congress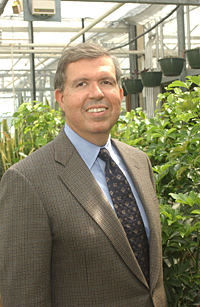 Donald L. Sparks, S. Hallock du Pont Chair of Plant and Soil Sciences
1:39 p.m., July 7, 2006--The 18th World Congress of Soil Science will be held July 9-15 in Philadelphia, returning to the United States for the first time in 46 years and drawing internationally renowned researchers from a variety of backgrounds to discuss key issues related to the impact of soil on the environment and in feeding the hungry.
The World Congress will feature an address by Jeffrey D. Sachs, the noted economist at Columbia University who is director of the Earth Institute, special adviser to United Nations Secretary-General Kofi Annan and author of the book The End of Poverty. It also will feature numerous lectures and panels, including several by University of Delaware faculty, with topics ranging from remediation of contaminated soils to carbon sequestration and global climate change.
Helping to administer the World Congress, which will draw more than 2,000 participants, is UD's Donald L. Sparks, S. Hallock du Pont Chair of Plant and Soil Sciences, chairperson of the Department of Plant and Soil Sciences and president of the sponsoring organization, the International Union of Soil Scientists.
"This is a great event for us," Sparks said, adding that its proximity offers a great opportunity for UD students. The last World Congress held in the United States was in 1960 in Madison, Wis., with the 2002 event held in Bangkok, Thailand, and the 2010 event scheduled for Brisbane, Australia.
Sparks said the theme of the World Congress is "Frontiers of Soil Science: Technology and the Information Age," and added he hopes the event will focus attention on a field that is often overlooked despite its significant effects on human life.
"Part of our mission is to educate the public," Sparks said. "People understand the value of air quality and water quality, but what about soil? They probably do not have as clear an understanding of the value of soil quality."
He noted that soil health has huge implications in agriculture, and in the feeding of the planet's inhabitants, and added that soil contaminated with metals, such as lead, have a direct impact on human health.
"From an environmental standpoint, soil is absolutely critical," Sparks said. "Humans have a tremendous challenge ahead of us, environmentally and in the production of food, and we as soil scientists can be a part of that."
In addition to raising soil science awareness globally, Sparks said a central part of his work as IUSS president has been to link soil science to other fields, particularly the geosciences. That reflects the increasingly interdisciplinary nature of many scientific fields in the 21st Century, he said, adding that the UD's program has been a model for interdisciplinary work.
"The future of soil science is working across disciplines, and we've done that very well here at Delaware," Sparks said.
In particular, the department at UD links soil scientists with molecular biologists working with plants and with environmental scientists and geochemists to determine the form of metals and nutrients in soils using advanced technologies, each bringing a unique point of view. "That has created some interesting interactions we would not have had otherwise," Sparks said.
Over the course of the last two decades, the UD program has increased its number of faculty from two to nine, has developed strong ties to national laboratories and the private sector and has attracted "some incredibly bright students," Sparks said.
He added that UD students "have been placed in faculty, industry and government positions around the world" and in the past several months, four UD doctoral students have received faculty positions in leading universities in the United States.
"We have been progressive," Sparks said of the department. "We have maintained areas that are important but also looked at growth areas where we can have an impact and carve out a niche." Those areas include nutrient management, soil and environmental chemistry and novel research on plant/soil interfacial reactions and processes.
Sparks said the UD administration has been very supportive of the program and added that the Delaware Biotechnology Institute has been "a big asset."
He is excited about the World Congress because it will provide a forum in which "scientists from around the world will discuss global priorities in soil science research," and he is particularly interested to hear Sachs, who "is in the forefront" of issues of importance related to the field.
The World Congress will be held at the Pennsylvania Convention Center in Philadelphia. In addition to Sachs, speakers at the opening ceremony on Monday, July 10, are Michael Clegg, the foreign secretary of the National Academy of Sciences, Ambassador Kenneth Quinn, who will recognize the 2006 World Food Prize Laureates, two of whom are soil scientists, and Ed de Mulder, past president of the International Union of Geological Sciences, who will discuss the United Nations' Year of the Planet Earth recently approved for 2008.
Article by Neil Thomas
Photo by Duane Perry
E-mail this article
Subscribe to UDaily
Subscribe to crime alert e-mail notification