UDaily is produced by the Office of Public Relations
150 South College Ave.
Newark, DE 19716-2701
(302) 831-2791

Castle touts bill to increase access to PT services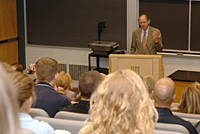 U.S. Rep. Michael Castle: "By enabling physical therapists to participate in the National Health Service Corps, they will be able to join doctors, nurses, mental health specialists and dentists, and, as a result, patients health care needs will be better served."
2:20 p.m., July 7, 2006--U.S. Rep. Michael Castle (R-Del.) visited the University of Delaware's Department of Physical Therapy on Thursday, July 6, where he met with researchers, toured clinics and research laboratories and discussed his support for legislation to increase physical therapy services in underserved communities.
The talk, given to an audience of about 100 students, faculty and administrators in 130 Sharp Lab, was arranged by the American Physical Therapy Association.
During the talk, Castle expressed his support for H.R. 5134, legislation that would authorize physical therapists to participate in a national program to help underserved communities.
As an example of the need for physical therapists to serve in such areas, Castle cited patients with diabetes who not only need access to a general practitioner and an endocrinologist, but also may need the service of a physical therapist because of possible foot complications they may have as a result of the disease.
"People living in underserved rural and urban communities often have pressing health needs that must be treated by a health care team," Castle said. "However, working in such a setting often presents a financial hardship for newly trained physical therapists facing thousands of dollars in school loans. By enabling physical therapists to participate in the National Health Service Corps, they will be able to join doctors, nurses, mental health specialists and dentists, and, as a result, patients health care needs will be better served."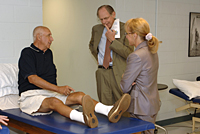 Patient Dirk Gotwalt discusses his knee injury with Rep. Castle and Lynn Snyder-Mackler, professor of physical therapy, during a tour of UD's physical therapy clinic in McKinly Lab.

The proposed legislation would help encourage physical therapists to serve in rural and urban underserved communities, with a maximum loan repayment of $25,000 per year during the required initial two-year contract period of service.

Under H.R. 5134, participating physical therapists would receive a regular salary from their employers, plus loan repayment through the federal government.

The bill does not authorize new funding, but it does add physical therapists to the list of health care providers that can compete for the funds. The FY 2007 HHS Education Appropriations Bill would provide an additional $4,080,000 above an FY 2006 budget of $89,310,000 in funding for National Health Service Corps recruiting activities, Castle said.

Castle also noted the importance of federal funding for UD physical therapy research programs aimed at cost reduction, quality of life improvement and enhancing the physical functioning of individuals who have osteoarthritis, stoke or other movement-related disorders.

"I am overwhelmed after touring the various clinics and labs here at UD," Castle said. "I visit the University at least three or four times a year, and I am always impressed by what I see here in all the different programs on the campus," Castle said. "Today's tour was really an eye-opening experience for me. We have to thank President [David P.] Roselle and all the professors who have done such a great job in taking UD up to even higher standards."

Article by Jerry Rhodes
Photos by Kathy F. Atkinson
E-mail this article
Subscribe to UDaily
Subscribe to crime alert e-mail notification