UD junior pinch hits as Phillies ball girl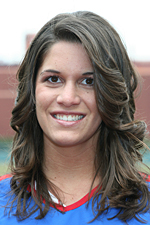 Jennifer Scanlan, a junior education major in UD's Honors Program
4:39 p.m., July 26, 2006--Whether it's standing alongside the Phillie Phanatic at home plate for the playing of "The Star Spangled Banner" or dodging screaming line drives, Jennifer Scanlan can tell you that working as a ball girl for the Philadelphia Phillies at Citizens Bank Field is anything but dull.
A graduate of Cardinal O'Hara High School in Springfield, Pa., and a junior education major in UD's Honors Program, Scanlan, from Ridley Park, Pa., is one of six ball girls who work alternating games when the Phils are in town.
Two ball girls work each game, and a typical night at the 43,000-seat ballpark for Scanlan begins with picking up her gear bag, containing necessary items such as gloves, warm-up suits and foul-weather gear. The ball girls then run out to their respective positions near the right- or left-field foul lines to set up their chairs before meeting the Phanatic at home plate for the playing of the national anthem, Scanlan said.
"When I arrive for duty and step out onto right field by the visitors' dugout, the players are on the field practicing," Scanlan said. "There also are lots of fans screaming to me asking for balls, or just screaming my name because it's on the back of my jersey."
Scanlan said that once the starting lineup is announced, the ball girls run to their chairs as the players run out of the dugout to their positions.
"By this time, the first batter of the opposing team is warming up, and I already have kids asking me if I could give them a foul ball," Scanlan said. "I tell them that I will do my best, but that I can't promise them anything. Some nights I have had as many as four foul balls to give away, and on other nights I had none."
Occasionally, another newly established tradition at Citizens Bank Park provides Scanlan with a souvenir baseball to toss to a eager and appreciative youngster.
"It has been a tradition in our new ballpark since the day it opened, that fans throw back onto the field any homerun balls hit by the opposing team," Scanlan said. "When they do, I run out and get the ball and put it in my bag. After an inning or two, I can slip the ball to a kid that I think deserves it. I can't do this right away, though, because all the fans will yell for me to throw it back."
The ball girls also have another task to perform whenever Phillies manager Charlie Manuel or pitching coach Rick Dubee call for a change of pitchers, Scanlan said.
"One of us runs out to the bullpen to get the jacket of the incoming pitcher," Scanlan said. "Then, we run it back to the Phillies dugout and hand it to a player so that the jacket will be there for the relief pitcher to wear between innings."
Perhaps even more important than retrieving foul balls and running in the jackets of incoming relief pitchers is keeping a sharp eye for lively balls that bounce from fair to foul territory in the area where the ball girls are seated, Scanlan said.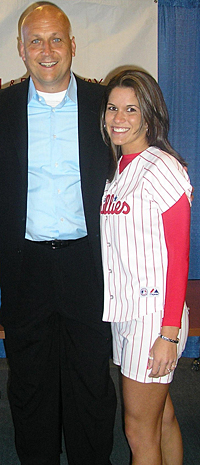 As a ball girl, long-time baseball fan Scanlan has a unique opportunity to meet current major league stars and legends, like former Baltimore Orioles "iron man" Cal Ripken Jr. (left).

"The players keep their eyes on the ball and not where we are sitting, so for the good of the game and our own safety, it's important for us to get out of their way," she said.

Scanlan recalled such an incident when Phils shortstop Jimmy Rollins hit a hard line drive down the right field line that was snagged by the opposing team's right fielder.

"This play wouldn't have been so smooth if I didn't run out of the way with my chair," Scanlan said. "I really like talking to the fans sitting near me, and I love seeing how I can make a little kid's day by giving him or her a baseball, but I have to keep my eye on every pitch, because I never know what will happen."

The opportunity to become a Phillies ball girl came when her cousin, Bridget Scanlan, told her there were openings for the position, she said.

"My cousin Bridget was a ball girl for the Phillies for the past two seasons, and I have always come to the games to watch her work," Scanlan said. "I knew that being a ball girl for the team is something I would love to do."

While excited at the opportunity to visit Citizens Bank Park, Scanlan said she did not get her hopes too high because she knew that many people had applied for the job.

"There I was, right in the middle of taking Winter Session classes at UD and applying for the ball girl position," Scanlan said. "I was really amazed to find out that I had gotten the job."

Scanlan said that while the players and the coaches are very serious about their jobs on the field, working around the Phillie Phanatic is another matter.

"The Phanatic is very entertaining, and I could watch his act forever," she said. "Besides seeing him on the field, I have gone out with him on different appearances, including to the Philadelphia Zoo, where we spread Phillies cheer and give out coupons, stickers and T-shirts."

A lifelong fan of Philadelphia sporting teams, Scanlan said that she plans to enjoy every game that she works during her two-year hitch as a Phillies ball girl.

"I really look forward to doing this. Every day is a new experience, and each experience is more exciting than the one before," Scanlan said. "The feeling that I get from the time when I walk onto the field to when I leave the ballpark is just incredible."

Article by Jerry Rhodes
E-mail this article
Subscribe to UDaily
Subscribe to crime alert e-mail notification