Documenting Delaware's trails to freedom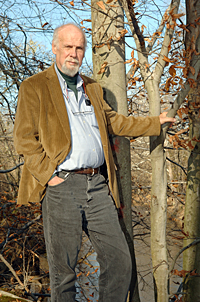 David L. Ames, professor of urban affairs and geography and director of UD's Center for Historic Architecture and Design
1:35 p.m., Jan. 11, 2007--In 1841, Delawarean John Alston, a member of the Appoquinimink Friends Meeting House in Odessa, wrote, "Oh Lord...enable me to keep my heart and house open to receive thy servants that they may rest in their travels at this house...."
Alston, a Quaker, was praying for strength to continue his work as a "station master" for the Underground Railroad (UGRR), a network of sympathizers that helped slaves escape bondage in the south. The Quakers were an essential part of the Underground Railroad in Delaware, Maryland and Pennsylvania having condemned slavery in 1754, more than 100 years before slavery was abolished in the U.S.
"Delaware was a last link in the trip from the south to Pennsylvania, New York and freedom," David L. Ames, professor of urban affairs and geography and director of UD's Center for Historic Architecture and Design, said.
"Delaware was a slave state, but Wilmington was an abolitionist center and Kent County had a large free black population concentrated near Camden in Star Hill and Brinkley Hill, which provided a relatively safe place of rest before the last leg to Wilmington and Pennsylvania or even to New Jersey across the Delaware River," Ames said.
Ames and graduate student Shaun-Marie Coleman, one of the first students admitted to UD's new doctoral program in preservation studies, have been documenting UGRR locations in Delaware since January 2006. Their research will be offered for nomination to the Delaware Department of Transportation's (DELDOT) State Scenic and Historic Highway Program (SSHHP) next summer.
"Designating a Delaware Underground Railroad Scenic and Historic Highway is part of a plan for a continuous Underground Railroad National Scenic Byway from its origins in Maryland to its terminus in Pennsylvania," Ames said.
For Ames, the UGRR undertaking is part of a larger project documenting the historic and cultural significance of roads in Delaware, giving needed information to communities that want to have their roads designated scenic or historic highways by the SSHHP.
The proposed Delaware Underground Railroad Scenic and Historic Highway is 104 miles with five segments and is planned as a continuation of the Maryland Underground Railroad Scenic Byway that comes into Delaware at Sandtown on State Route 10 in Kent County and proceeds northeast to Wilmington and north along Kennett Pike to Longwood Gardens in Pennsylvania.
"Intrinsic Qualities along Delaware's Potential Underground Railroad Scenic and Historic Highway," the document Ames is preparing for submission to SSHHP, has photos and descriptions of each road or building and its historical context as in this excerpt:
"Wildcat Manor was one of numerous possible stops on the Underground Railroad in the Camden area. It is an unusually built house with a multitude of irregular spaces and additions. This architecture helped conceal the spaces where freedom-seekers hid on their journey northward. The home was owned by the distinguished abolitionist John Hunn, known today as 'the Chief Engineer of the Underground Railroad in Delaware.' Hunn also owned the nearby property of Great Geneva, and it was in the vicinity of these two homes that the free black community of Hunn Town developed. Hunn assisted with numerous escapes, including that of the Hawkins family in 1844, for which he was eventually convicted and fined. He continued his efforts, however, twice more being fined $10,000 by the state of Delaware. His activities eventually left him destitute but he never desisted and, during the Civil War, worked with the Freedmen's Bureau in Port Royal, S.C."
The document also includes the Sandtown Route 10 area, where former slave and Underground Railroad founder, Harriet Tubman, found shelter on her journeys from Maryland to the Pennsylvania border.
Eventually, DELDOT will develop a guide for individuals, community groups and municipalities that want to know more about the Delaware Underground Railroad.
Article by Barbara Garrison
Photo by Kathy F. Atkinson
E-mail this article
Subscribe to UDaily
Subscribe to crime alert e-mail notification