Prof helps prep famous fossil Lucy for trip to U.S.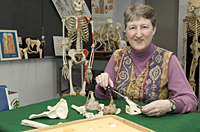 In preparation for her trip to Ethiopia, Prof. Cassman has been working with a cast of Lucy in the anthropology laboratory in John Munroe Hall, which contains fossils casts from all over the world.
4:29 p.m., Jan. 19, 2007--Vicki Cassman, assistant professor and director of undergraduate studies in UD's art conservation department, has been selected to join conservators Nancy Odegaard and Ronald Harvey in Ethiopia to document and prepare Lucy, the most complete skeleton of an early hominoid to date, for an exhibition in the Houston Museum of Natural Science, titled "Lucy's Legacy: The Hidden Treasures of Ethiopia."
The exhibit, sponsored by the Federal Democratic Republic of Ethiopia and the Houston Museum of Natural Science, will feature current scientific theories about human evolution and Ethiopian history, including the 5th-century Kingdom of Axum, the 11th-century stone churches of Lalibela and the 17th-century castles of Gondar.
In Ethiopia, Cassman will study Lucy and determine the most appropriate way to secure her for travel with Odegaard, an anthropology professor at the University of Arizona and head of preservation at the Arizona State Museum, and Harvey, a private conservator in Maine.
Cassman said she and her colleagues will document the present condition of the skeleton and will examine how its reconstruction from 30 years ago has held up over time.
"It's a very careful examination to get a baseline understanding about Lucy and to be able to prevent future damage and to become aware of what potential problems there could be," Cassman said.
Donald Johnson and Tom Gray discovered Lucy, or Australopithecus afarensi, in Hadar, Ethiopia, in 1974. A hominid, Lucy is between 3-3.5 million years old and was bipedal, meaning she could walk upright like modern humans. Lucy, who was only three and a half feet tall, resembles a chimpanzee from the neck up and a modern human from the neck down.
Cassman said she was contacted two years ago about the assignment but negotiations between the cultural ministers in the Ethiopian government and the Houston Museum of Natural Science about the exhibit, which contains hundreds of fossils, delayed the trip.
Cassman said there are a limited number of conservators who are also anthropologists and vice versa. "I did not seek to be a conservator of human remains," she said. "There was a need and both Dr. Nancy Odegaard and I ended up filling that need due to our training, circumstances, past experiences and a willingness to tackle the often complex ethical issues involved."
Cassman has been involved in the caring for the Kennewick Man remains at the Burke Museum in Seattle. As part of its curation team, Cassman advocated for preservation of its remains during legal struggles between the federal government, Native American tribes and anthropologists. She also is the main editor for Human Remains Guide for Museums and Academic Institutions and is currently pursuing research in collection management, Andean archaeology and textiles.
Cassman said proceeds of the Lucy exhibit will go to help the National Museum in Ethiopia care for its collection of fossils. As a result of the exhibit, Lucy also will be housed in better materials.
While there are casts available of Lucy in museums, Cassman said she believes more people will want to see the real fossil.
"Lucy represents one of the earliest and most complete hominoids that we have," she said. "I think that the casts that are available, especially the cast the Houston museum has, are really crude. They don't give the aged look and are nothing what the real thing looks like. It would be tough to pass off a fake as something to come see."
To prepare for her trip, Cassman has been working with a cast of Lucy in the anthropology laboratory in John Munroe Hall, which contains fossils casts from all over the world. More than 15 years ago, Karen Rosenberg, chairperson and associate professor of anthropology, bought the cast to use as a teaching aid. She said her students look at the cast in the classroom or in the laboratory while they learn about human evolution.
Cassman said having a cast to work with before her trip has given her ideas about proper housing materials for Lucy and will accelerate her transition into the assignment once she arrives in Ethiopia.
"It's really been great to have the cast available because I can see how things have been put together," she said. "I've been able to set up a spreadsheet to document its condition based on its cast so I can jump in when I get there."
Lucy is not the only important fossil, Rosenberg said, as there are thousands of other fossils that provide similar information.
"It's very complete for a skeleton of that time period," Rosenberg said. "At the time it was found, we didn't know as much as we know now, so it was very exciting."
Rosenberg said most universities that teach human evolution would want to have casts of skeletons such as Lucy to show to students.
Although there is debate over exhibiting the real Lucy instead of casts, Cassman said there is no substitute for the real thing. "There's always the debate in the museum world, accessibility versus preservation. Why are we keeping things if they're not available?" she said. "If it can be made available, than why not."
Cassman said Lucy should not experience any problems during her flight to Houston. "Lucy will have a first-class seat on the airplane so she will be very comfortable," she said.
Article by Julia Parmley, AS '07
Photo by Kathy F. Atkinson
E-mail this article
Subscribe to UDaily
Subscribe to crime alert e-mail notification