UDaily is produced by the Office of Public Relations
150 South College Ave.
Newark, DE 19716-2701
(302) 831-2791

Catherine Fuga named HR Liaison of the quarter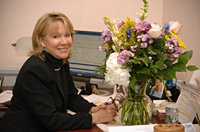 Catherine Fuga
4:24 p.m., Jan. 17, 2007--Catherine Fuga, senior administrative assistant of UD's rental housing program for faculty and staff, has been named HR Liaison of the fourth quarter for 2006--an honor reserved four times a year for exemplary members of UD's human resources team.
"It's really an honor," Fuga, who learned of her nomination Tuesday morning, Jan. 16, said. "I'm sure there are others out there who are much more deserving of these gorgeous flowers than I!"
Fuga, who has been with the University for 10 years, and before her current position worked in payroll, said that she thinks she was chosen as this quarter's liaison because of her work with human resources in the past. "Why I got chosen this quarter is probably because I have some background and knowledge in HR," Fuga said, "but I also think [the honor] is due to the great group of patient people in HR."
Besides the bouquet, Fuga also will receive a certificate for her efforts at an upcoming human resources breakfast, at which she will give a brief thank-you address.
Currently responsible for matching UD faculty and staff with University housing--a match-making process that she describes as a balance between preferences and availability--Fuga plays the role of both realtor and administrative assistant, coordinating moves, paying bills, showing off properties and keeping tabs on vacancies.
"It's a very nice job," she said, "especially trying to match people with their specific requests. Three quarters of the houses turn over each year, so placement is often a matter of timing, and I try to find houses that meet specifications and seem like good fits."
Article by Becca Hutchinson
Photo by Kathy F. Atkinson
E-mail this article
Subscribe to UDaily