UDaily is produced by the Office of Public Relations
150 South College Ave.
Newark, DE 19716-2701
(302) 831-2791

Prof's book on drug use in Iran wins 2 awards
3:15 p.m., Jan. 5, 2007--A fascinating paradox in Iran is the religious ban against alcohol and drugs and their continual use throughout Iranian history, according to Rudi Matthee, UD professor of history, who has written the award-winning book, The Pursuit of Pleasure, Drugs and Stimulants in Iranian History, 1500-1900. Matthee's expertise is Middle Eastern history, and his research focuses on early modern Iran and the Persian Gulf.
Published by the Princeton University Press, The Pursuit of Pleasure has been awarded both the Albert Hourani Book Award from the Middle East Studies Association of North America and the Said Sirjani Award for the best book on Iran from the International Society for Iranian Studies.
In a review, Michael Pearson wrote in itinerario, a journal published by the University of Utrecht, "This is an extremely successful foray into the social history of Iran in the early modern period. This is a very rich and readable book...."
Stephen Dale of Ohio State University wrote, "This excellent, well-written book is likely to become a classic work on the subject of drugs and stimulants both in Iran and the wider Islamic world...."
As an undergraduate majoring in Arabic and Persian language and literature at the University of Utrecht, Matthee, who is from the Netherlands, spent a year studying in Iran and has visited the country frequently. At first, he was segregated with other foreign students, he recalled, but later arranged to attend classes at the University of Tehran with Iranian students. He also studied in Egypt for two years.
His interest in alcohol, drugs and stimulants, such as coffee, tea and tobacco, as an influential force in history began when he was a graduate student at the University of California Los Angeles (UCLA), where he received his doctorate in Islamic studies. His professor, Nikki Keddie, had been invited to take part in a forum in London on the role of drugs and narcotics in world history and asked Matthee to do some preliminary studies on the topic. When he finished his research, she suggested that he go in her place and present his paper.
In The Pursuit of Pleasure, Matthee writes, "Drugs and stimulants form the prism through which I view Iranian society" as "emblems of cultural processes and meaning as well as signifiers...of evolutionary change...."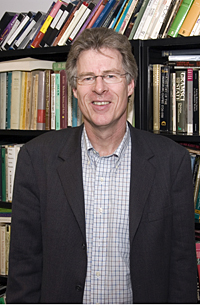 Historian Rudi Matthee
Photo by Sarah Simon

"Iran is not a dour country, as some people think," Matthee said. "The county has a fascinating history, fluctuating between the poles of hedonism and Puritanism, with Islamic, Turkish and Christian cultural infusions adding to the mix."

His book covers Safavid and Qajar Iran from the 15th through the 19th centuries. The country produced its own wine, and the early nomadic shahs were expected to drink heavily as a part of their masculine, warrior image, Matthee said. Later, the shahs drank more moderately as they became more domesticated, but drinking has always been associated with the elite class.

His book also discusses the uses of opium. Unlike wine, which was for the elite, people of all classes used opium but usually not in such great amounts that it impaired their daily activities, he said.

Tobacco, with its accompanying rituals with water pipes, was introduced in the 16th century and was immediately popular. When the shah gave control over Iran's tobacco crops in 1890 to a British subject, it began a revolt that ultimately became the Constitutional Revolution of 1905-11, weakening the authority of the shahs.

Coffee and tea, the favorite drink of Iranians, also were introduced. Coffee houses sprang up but the government frequently outlawed them as threats to authority.

Matthee wrote, "the study's larger objective is to offer a social history of ways in which Iranians have approached drugs and stimulants since 1500, adapting them to their cultural environment or adapting their cultural environment to them."

Matthee joined the UD faculty in 1993. He is the author of The Politics of Trade in Safavid Iran: Silk for Silver, 1600-1730, which received the Iranian Ministry of Culture's award for the best non-Persian book on Iranian history in 1999, and co-editor of Iran and Beyond: Essays in Honor of Nikki R. Keddie and Iran and the Surrounding World: Interactions in Culture and Cultural Politics. Matthee was a fellow at the Institute for Advanced Study at Princeton University in 2002-03 and has served as president of the Association of Persian-Speaking Societies.

Article by Sue Moncure
E-mail this article
Subscribe to UDaily
Subscribe to crime alert e-mail notification