UDaily is produced by the Office of Public Relations
150 South College Ave.
Newark, DE 19716-2701
(302) 831-2791

Engineering professor to speak at Japan Nano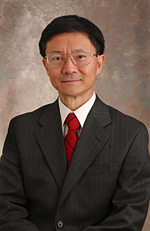 Tsu-Wei Chou
9:27 a.m., Feb. 15, 2007--Tsu-Wei Chou, Pierre S. du Pont Chair of Engineering at the University of Delaware, will deliver an invited lecture at the 5th International Symposium on Nanotechnology to be held Feb. 20-21 in Tokyo.
The Japan Nano 2007 conference, which is held in conjunction with the International Nanotechnology Exhibition and Conferences, is the biggest event in Japan for nanotechnology and is expected to attract more than 1,500 participants. Only 12 speakers will make presentations at the conference, covering the areas of nanobiology, nanophysics and nanoscale IT devices, and nanomaterials.
Chou's lecture is entitled "Electro-mechanical behavior of carbon nanotubes and their composites." The research programs undertaken by Chou's group at UD have focused on both analytical and experimental work on carbon nanotube-based sensors, actuators and their composites.
The group has received major funding from the National Science Foundation, Air Force Office of Scientific Research, Army Research Office, Office of Naval Research and industrial companies.
E-mail this article
Subscribe to UDaily
Subscribe to crime alert e-mail notification