UDaily is produced by the Office of Public Relations
150 South College Ave.
Newark, DE 19716-2701
(302) 831-2791

Student Multimedia Design Center opens in Morris Library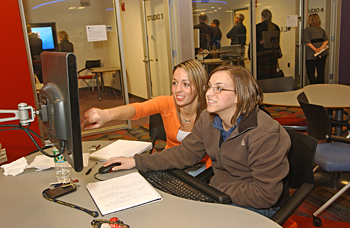 Jacyann Florio (left), a freshmen mathematics and economics major, and her friend Karla Smith, a math education freshman, are enthusiastic about the capabilities of the new Student Multimedia Design Center. "When I saw this place, it was just amazing," Smith said. "It's the only place on campus where we could find the software we needed to complete our assignment."
2:32 p.m., Feb. 28, 2007--Under a distinctive crown of bright blue lighting, UD's new state-of-the-art Student Multimedia Design Center, located on the lower level of Morris Library, opened on Tuesday, Feb. 27, with a ribbon-cutting ceremony and remarks by UD administrators and library officials.
Officially welcoming more than 140 guests and members of the UD community to the event, were Provost Dan Rich; David E. Hollowell, executive vice president and treasurer; Susan Brynteson, May Morris Director of Libraries; Susan Foster, vice president for information technologies; Leila Lyons, director of IT-User Services, and Sandra Millard, assistant director for library public services.
"The new Student Multimedia Design Center will help meet the needs of students in every discipline to communicate effectively through multimedia," Rich said. "This successful collaboration between the library and Instructional Technologies has created a unique facility that provides a flexible multimedia environment to meet diverse academic needs. I'm confident that UD students will benefit greatly from the distinctive learning opportunities supported by the new center."
The Student Multimedia Design Center will help to meet the needs of students whose classes may involve the creation of multimedia presentations as a course requirement. The multimedia facilities at the new center also will serve to enhance student presentation skills.
"The faculty told us that there were needs that they could not fulfill, and that new things were starting to develop, with new types of laboratories, and the ideas started to bubble up," Hollowell said. "I think this will be a great success and a great asset to our students now and for years to come."
Brynteson said that today's multimedia expectations of faculty and students require specialized expertise, technology, software and space, all of which can be found in the new center.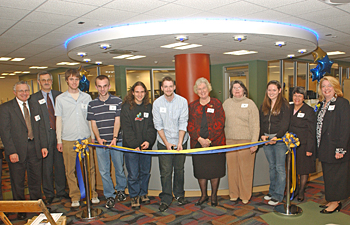 Those taking part in the ribbon-cutting ceremony included (from left) Provost Dan Rich; David E. Hollowell, executive vice president and treasurer; freshman Gifford Nowland; freshman James Welsh; sophomore Justin Mueller; junior Kyle Stewart; Susan Brynteson, May Morris Director of Libraries; Susan Foster, vice president for information technologies; sophomore Autumn Lynch; Leila Lyons, director of IT-User Services; and Sandra Millard, assistant director for library public services.

"I think the new multimedia center will assist in the role of being a great teacher, enriching the curriculum, as well as student lives," Brynteson said. "It will expand understanding and appreciation for creativity and for diverse forms of aesthetic and intellectual expression. The Morris Library is honored to be a partner in the home of the Student Multimedia Design Center."

Calling the center a work in progress, Foster said that besides being a collaborative effort, the multimedia center will continue to generate ideas as to what it could yet become.

"People have asked me, 'If it becomes crowded, what will you do?'" Foster said. "I just said that if that happens, we will build it bigger. This is just the beginning."

Special features incorporated in the facility include six studios, some large enough to accommodate six persons, and all equipped with high-end technology to allow video recording and editing, as well as the rehearsing and recording of presentations.

A transfer studio is equipped with the technology needed to convert media formats, such as the conversion of VHS tapes to DVDs.

Dedicated to optimal audio recording, the sound studio supports vocal recording with built-in equipment, while allowing for the mixing of multiple audio sources. All studios may be reserved for two-hour blocks up to one week in advance.

Faculty can reserve one of the multimedia classrooms that offer Windows and Macintosh multimedia-production computers plus a full range of software. When not reserved for larger group work, classrooms are open to individuals or small groups on a first-come, first-served basis.

Lyons thanked Conrado "Bobby" M. Gempesaw, dean of the Alfred Lerner College of Business and Economics, and Paul Hyde, IT-User Services information resource consultant, for moving the project from the idea stage to a finished product that will meet the expectation of students and faculty who use the center.

"I would like to recognize Paul Hyde and his vision and ability to understand the needs of the faculty and their articulation of what they would like do to with their students. I don't think we would have this facility today without his help," Lyons said. "Bobby Gempesaw met with us and encouraged us to meet with senior administrators. We met with them and President [David P.] Roselle. They agreed and were very supportive."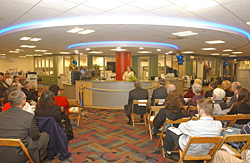 Susan Foster, vice president for information technologies: "People have asked me, 'If it becomes crowded, what will you do? I just said that if that happens, we will build it bigger. This is just the beginning."

The Student Multimedia Design Center was designed for flexibility, with moveable workstations, rolling chairs, Smart boards, whiteboards and privacy screens to allow students to work individually or in groups.

Adjoining the studios and classrooms are multimedia workstations, where Macintosh dual-core processor computers with Windows and Apple software capabilities affording students access to a broad range of multimedia software are available.

"Student creation of multimedia communication projects as part of the academic program is part of a larger, strong trend nationwide, and not just in higher education," Millard said. "Students who will be attending the University of Delaware in years to come will expect and benefit from this technology resource, which will continue to evolve."

Multimedia equipment and workstations are available to UD students, faculty and staff to create and edit multimedia projects for courses and practice presentations. Video cameras, hard drives, light and sound kits and related equipment can be borrowed from the service desk for individual or group use.

The new service area in the Student Multimedia Design Center, one of the largest such academic facilities in the country, also incorporates existing library services such as microforms, maps, copy services and digitization.

Donald Scott, a junior computer science major with a minor in mathematical science said that he enjoys the character and friendly atmosphere of the multimedia center.

"I love it. It's a great place to relax your mind," Scott said. "You can move the monitors on the workstations anyway you want, and the colors and the lights stimulate your mind."

Karla Smith, a math education freshman, and her friend Jacyann Florio, a freshmen mathematics and economics major, said the equipment in the center helped them with some math homework they were doing.

"When I saw this place, it was just amazing," Smith said. "It's the only place on campus where we could find the software we needed to complete our assignment."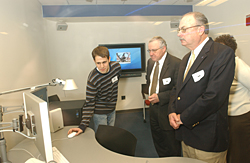 Senior Jared Lander demonstrates multimedia equipment capabilities for Provost Dan Rich (center) and Tim Barnekov, dean of the College of Human Services, Education and Public Policy.

"I think it is really nice, and that we will be here a lot," Florio said. "It's convenient, and these computers are capable of doing a lot of things that we can use."

Jo Kmetz, an instructor in the Department of Communications and director of the Oral Communication Fellows (a group of students committed to improving the presentation skills of those seeking assistance in public speaking), said the new center will benefit students, who can schedule from 15 minutes to an hour of studio time.

"This place is centrally located, it's recognizable and it's a safe environment," Kmetz said. "It has a lot of wonderful assets and will allow students to learn and to help others to learn."


Initiated by Rich, the center is a collaborative service of the UD Library and Information Technologies. Led by Millard and Lyons, with input from a wide variety of faculty and staff, the Multimedia Planning Group also included Shelly McCoy, library head, and Bryce Spencer, assistant librarian; Carol Anderer, associate director, Jean Neff and Hyde, information resource counsultants, all of IT-User Services; and Carrol Shmitt, project manager, Facilities Planning and Construction. Architect for the facility was the Clark Design group of Elkton, Md.

Funding for the project came from the Unidel Foundation and the Office of the Provost, with additional support from the state of Delaware. For more information about the Student Multimedia Design Center, visit [www.udel.edu/smdc].

Article by Jerry Rhodes
Photos by Duane Perry
E-mail this article
Subscribe to UDaily
Subscribe to crime alert e-mail notification